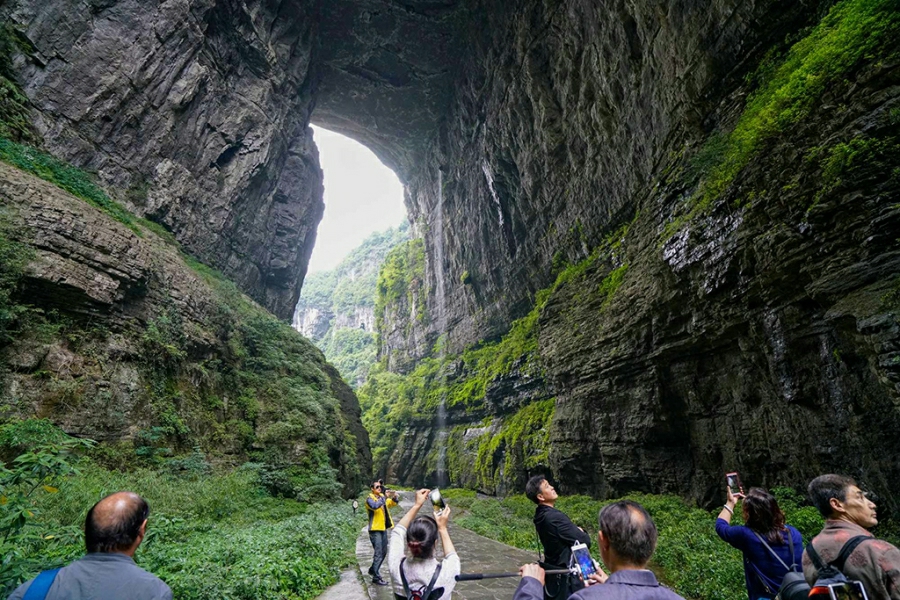 Wulong Karst Tourism Area & Curse of the Golden Flower
Wulong Karst Tourism Area, located in Chongqing's Wulong district, has unique karst landscapes including caves, sinkholes, fractures, canyons, peaks, and alpine meadows. It is divided into three sections: the Three Natural Bridges, the Fairy Mountain, and the Furong Cave. Designated a national top level travel destination, the tourism area also impresses visitors with distinctive folk customs of the Tujia, Miao, and Mulam ethnic groups.
The Three Natural Bridges in Wulong is a rare geological wonder of typical karst landforms and is home to three magnificent natural limestone arch bridges, namely the Tianlong Bridge, the Qinglong Bridge, and the Heilong Bridge. The height, width, and span of the three bridges are over 150 meters, 200 meters, and 300 meters respectively. They span the Yangshuihe Canyon in parallel and connect the mountains on both sides, forming an eccentric landscape of "three bridges sandwiched by two pits".
In the film
Curse of the Golden Flower (2006)《满城尽带黄金甲》
Director Zhang Yimou
Starring Chow Yun-fat, Gong Li, Jay Chou, Liu Ye, Qin Junjie
The film plot is based on Cao Yu's 1934 stage play Thunderstorm, but is set in an imperial court in ancient China.
The story takes place during the 10th century. A power struggle arises in the imperial family. Decades earlier, the emperor (played by Chow Yun-fat) murdered his first wife after she helped him to rise from a low military rank. On finding their son, Yuanxiang (played by Liu Ye), the crown prince, is having an affair with the incumbent empress (played by Gong Li), he surreptitiously poisons her with herb soup on the pretext of improving her health; it eventually drives her insane.
Smoldering hatred towards her husband, the empress is plotting a court coup with her son Yuanjie (played by Jay Chou). Meanwhile, the emperor discovers that his former wife is still alive and has married the imperial doctor and given birth to a daughter. He sends killers to her home at dusk.
The film has a tragic ending. The family of the imperial doctor are killed, the emperor ruthlessly crushes the revolt, Yuanjie commits suicide, and the empress goes insane.
The scene that depicts dozens of black-clad killers carrying crescent daggers and jumping from all sides of the cliff into the doctor's house was shot at Three Natural Bridges at Wulong Karst Tourism Area.