Xixi National Wetland Park & If You Are the One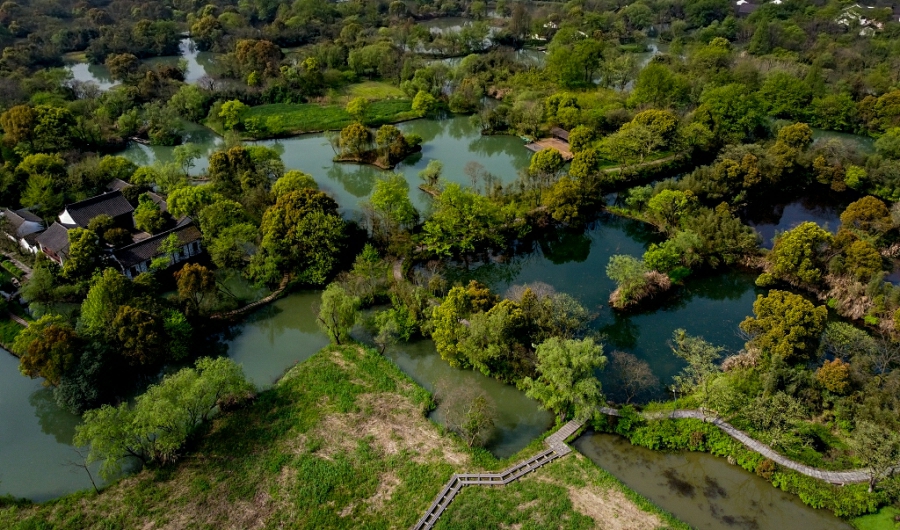 Situated in Hangzhou, East China's Zhejiang province, less than five kilometers from West Lake, Xixi National Wetland Park covers a total area of 11.5 square kilometers. It boasts rich ecological resources, beautiful natural scenery, and profound culture.
Rivers, ponds, lakes, and swamps make up over 70 percent of the park, which is China's first national wetland park integrating urban, agricultural, and cultural wetlands.
In 2009, Xixi National Wetland Park was inscribed on the List of Wetlands of International Importance in China. In 2012 it was China's first wetland park to receive a national 5A rating for tourist attractions, and in 2013 was dubbed "one of China's top 10 most charming wetland parks".

In the film
If You Are the One《非诚勿扰》(2008)
Director Feng Xiaogang
Starring Ge You, Shu Qi, Fan Wei, Alex Fong
Qin Fen (played by Ge You), in his late forties, returns to China after spending many years abroad. He did not obtain a degree while abroad, but he is skilled at persuading people. Qin becomes a multimillionaire after selling an "innovative invention" to an angel investor (played by Fan Wei), and with his new fortune, he decides to end his bachelor life, advertising online for potential marriage partners, to apply only "if you are the one", that is, sincere.
Qin meets Liang Xiaoxiao (played by Shu Qi) on a blind date, and finds himself drawn to her sophisticated beauty and melancholy temperament. But Liang has been trapped in an extramarital affair with a man (played by Alex Fong) for years who is not able to divorce his wife to marry her. Determined to end this torturing relationship, Liang asks that man out to bid farewell. She speaks her mind and tells him of her unremitting love for him on a night cruise on the lake in Xixi National Wetland Park.