In Zhu Deyong's books, in sharp and sarcastic words, simple but funny characters tell each other short stories based mainly on the theme of "love is unreliable and marriage is a nightmare."
The societies of Zhu Deyong's comic strips are compacted into si ge manhua - series of four pictures, with each series following a miniature storyline.
Zhu consciously chose to simplify his comic strips from the usual stories told in other Chinese comic strips, saying that the fast pace of modern life tallies well with the si ge manhau style of cartoons.
"Everything, including every person I see, are reflected in my imagination as four squares," said Zhu in an interview. "That's already part of my intuition."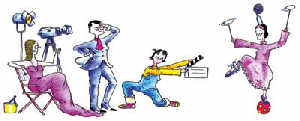 The humor of Zhu's comic strips lies in his puns. In addition, with a light dusting of thought-provoking humor, the comics also give a small window of knowing philosophy on the relationships of young Chinese couples.
The vertical margins of each page outline the maxims and strategies of the Vinegar Tribe (Cu Liu Dinglu) such as, "If women are baseball courts, then every man wants to be a striker," and "The main reason for lovers to quarrel may be about affection, but if you are familiar with each other, then the reasons will be money."

The resonant message has garnered Zhu Deyong a wide readership ranging in age from 20 to 40 years old. Since the series was first published in 1994, more than 1 million copies have been sold in Taiwan Province alone.