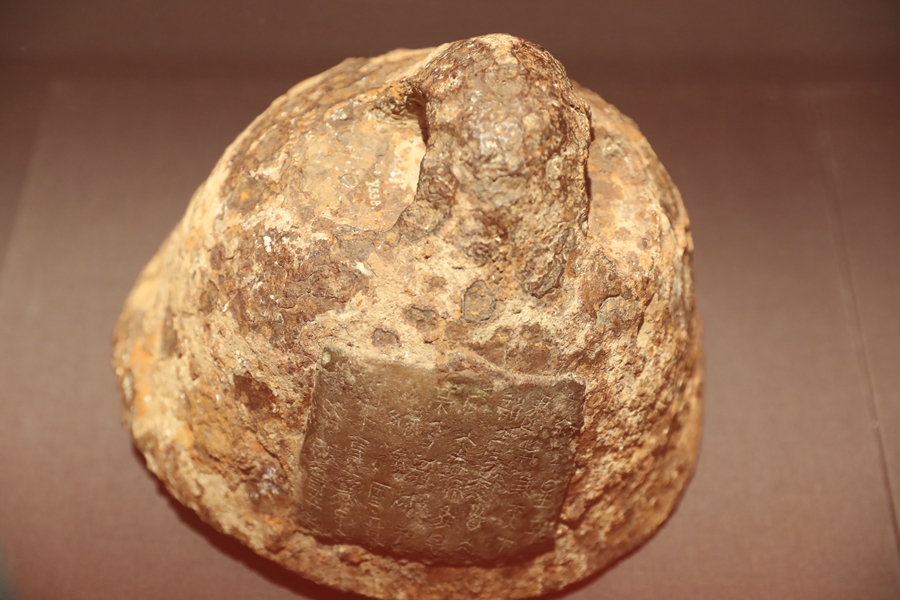 A bronze plate bearing an imperial edict on an iron weigh.[Photo by Jiangdong/China Daily]
An exhibition of relics from the ancient town of Liye provides a deeper understanding of life then, Lin Qi reports.
Like in some other parts of the world, small children in China are encouraged to recite the multiplication table. But few know when the formula first appeared in China.
During an excavation in 2002, a wooden slip was unearthed from a well at a 2,200-year-old relic site in the mountainous Liye town, Longshan county, Hunan province. The front and back of the slip contain the formula in Chinese characters, which is believed to be the earliest and most complete such model in the country.
The slip was among some 38,000 bamboo and wooden pieces found in the well and dates to the Qin Dynasty (221-206 BC), China's first unified empire that was powerful but short-lived.
The discovery of these slips, as well as other excavations at the Liye relic site, is deemed one of the most important archaeological findings in China since the beginning of the 21st century.