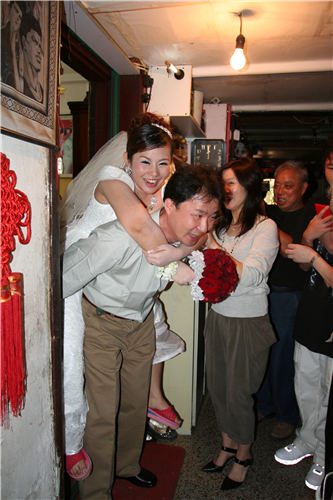 Chen Shumin, a schoolteacher from Shanghai, captured this image in 2009 at her friend Qian Weina's wedding in an old building in the city's Changning district, where they both grew up. [Photo provided to China Daily]
Chinese in their 40s list Deng Xiaoping's southern tours and China's WTO entry as key milestones of the past four decades while recounting their own lives.
Gazing at the green mountains or walking on muddy roads during the day and spending evenings by the dim light of kerosene lamps are among Yang Xiuping's earliest memories of her childhood in a village in Southwest China's Guizhou province.
Yang, who has just turned 40, attended school briefly as a child. She had to help her parents with farming activities like many of her peers in 1980s China.
In 1993, Yang left her village, which falls within the administrative purview of Tongren-until recently a rural town-to work further south in a factory that made plastic flowers in the city of Shenzhen, Guangdong province. She returned to Tongren six years ago and set up a company that artificially breeds fish.
Yang has gone from "factory girl to boss", according to local media.
As China this month marks four decades since the launch of economic reforms, Yang and some others from her generation share with China Daily their perspectives on the country's transformation from abject poverty to the world's second-largest economy-and how the change shaped their own lives.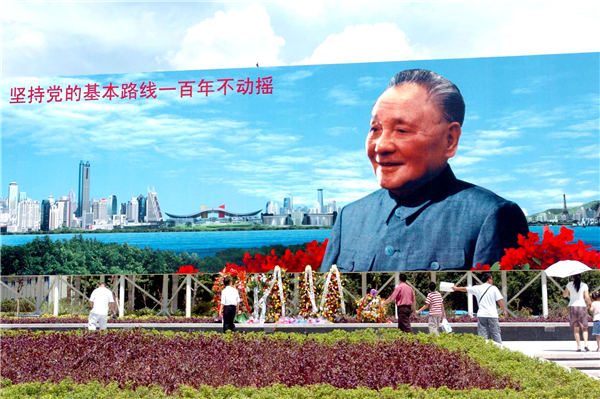 Visitors pass by a large portrait of Deng Xiaoping on a street in Shenzhen. [Photo/Xinhua]
Another migrant in Shenzhen, Yang Jian, arrived in the city in 2002. He grew up in Xinning county of Central China's Hunan province. He was in high school when Deng Xiaoping, considered the architect of the economic reforms, went on his now-famous southern tours in 1992.
A factor that drove policy in the late '70s was that minor changes were not going to fix the economy. Yang Jian, 44, advocates further opening-up of the market.
In Shenzhen, the country's first special economic zone, he started his own consultancy in 2008, organizing exhibitions for companies. He trades in automobile parts today.
Once a sleepy area on the Pearl River Delta, with "residents in envy" of the more-affluent neighboring Hong Kong, he says, Shenzhen's profile rose at the forefront of reform.
The entrepreneur counts China joining the World Trade Organization in 2001 as a major milestone for the country.