However, fate was cruel to San Mao again. He Xi died in a diving accident in 1979, causing San Mao to end her stay in the desrt and return back toTaiwan.
In the next several years, San enjoyed a quiet and peaceful life; or so it seemed. She traveled to South America, taught literature, gave lectures, and wrote books and plays. It seemed that San was having a common but productive life. However, on the morning of January 4, 1991, San committed suicide at the age of 48. Her death shocked the society, as no one knew why she chose to leave.
San Mao was such a woman, who bravely spanned the trials of a long journey, as well as the tumultuous human society, until she could no longer bear the bitter olive taste.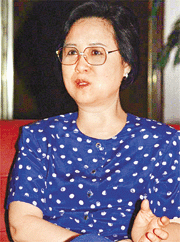 A Great Romantic-- Qiong Yao
Qiong Yao, meaning finejadein Chinese, is the poetic penname for Taiwan writer Chen Zhe, who has long been considered a great romantic.
Qiong Yao was born inChengduof Southwest China'sSichuan Provincein 1938 and moved to Taiwan with her family in 1949. As a young woman, Qiong attempted suicide two times -- after twice failing the college entrance examination and after ending her first love affair.
At the age of 22, Qiong Yao had her first child and began to write. Three years later, her first saga novel Outside Window was published in a magazine named Imperial Crown, launching her long and illustrious career.
Famous for her vivid and sentimental love stories, Qiong uses her pen to create a very special world that is filled with emotion and devotion. Qiong's fame really took off during the 1980s, when countless teenagers became her aficionados, with their eyes guzzling down every word she wrote.