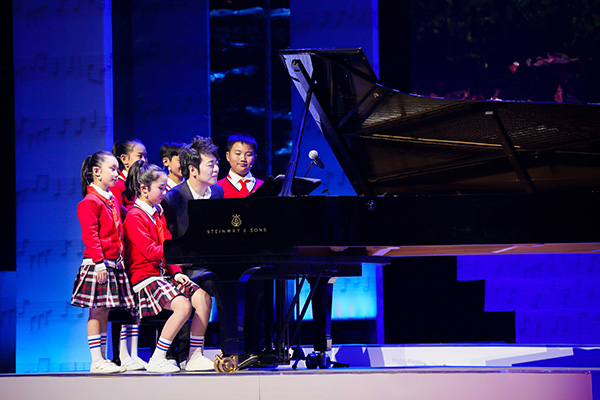 Pianist Lang Lang performs with a group of student singers from Xiongan. [Photo provided to China Daily]
A charitable program is laying the foundation for arts education in Xiongan's rural areas, Liu Xiangrui reports. 
A concert at the Tianqiao Performing Arts Center in Beijing on Friday brought together several bigname artists, including internationally acclaimed pianist Lang Lang, pop singer Xu Wei, ballet dancer Qiu Siting, percussionist Zhang Yangsheng and violinist Lao Li. But the real stars of the show were children like 10-year-old Wang Xinyao, who comes from a rural part of Xiongxian county, which is now part of the Xiongan New Area in northern China's Hebei province.
Xinyao sang her favorite song, You Raise Me Up, which she believes echoes to her own story of a girl from the countryside, empowered by a once-out-of-reach education in the arts.
Only five months ago, Xinyao hadn't received any professional arts training and could only sing some off-pitch children's songs. That was all she had been taught in her school's music classes.
She has since learned to read music and can perform more complicated songs like the classic folk tune, Jasmine Flower.
"Singing has made me more confident," says Xinyao, who has joined her school's newly founded choir. "I dream of becoming a music teacher so that I can teach others what I've learned."
The concert was livestreamed on nearly 20 popular platforms to encourage children who love art, especially those in rural areas, to show their talents and chase their dreams.