What makes Pablo Picasso such a quintessential 20th-century artist? It's partly down to the visual ground he broke with his Cubist painting, but some also has to do with the fact his interests extended far beyond painting.
Picasso's innovations in perspective and technique dazzled the art world for decades, paving the way for many of the important artistic movements of the last century.
As art historians and critics emphasize the visual ground he broke with his Cubist painting, Picasso's poetry and other written works are often overlooked in discussions of his long and varied career.
The artist did not begin to write until the age of 53. His literary endeavors resulted in hundreds of poems with a unique fusion of words and visual imagery.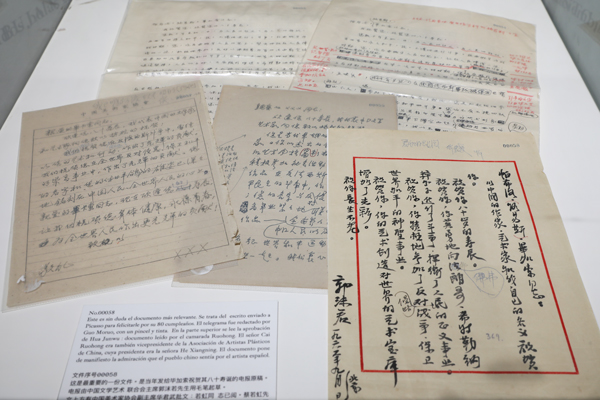 The original congratulatory telegram drafted by Chinese author Guo Moruo, the president of the Chinese Federation of Literary and Art Circles, to Pablo Picasso on the occasion of Picasso's 80th birthday. [Photo by Li Wenrui/chinadaily.com.cn]
A recent exhibition tour, organized by the Instituto Cervantes and the Museo Picasso Málaga, frames Picasso as a poet and analyzes his fascination with Chinese art forms through a variety of documents and photos.
A newly produced documentary, screened at the exhibition hall, offers visitors a comprehensive view on Picasso's poems. "In this documentary of 30 minutes, you will discover how experts of Picasso and lovers of Picasso think about his poetry," said José Lebrero Stals, artistic director of Museo Picasso Málaga.
In an interview with China Daily, Lebrero talked about Picasso's experiments with poetry, his love for Chinese ink and the interactions between Picasso and a number of Chinese artists.