"Don't ask me where I came from; don't ask me where I am going…" this is a song written by San Mao. Just like the lyrics in the song, San Mao came into this world without much ado and left quietly.
For San Mao, life was like tasting an olive -- sour and a little bit sweet.
Even as a child, San Mao was sensitive and eccentric. In school, her classmates and teachers did not accept her very well, and in her second year of middle school, she discontinued her studies and learned how to play the piano and draw pictures.
Once, when San heard a Spanish classical guitar record, she decided that Spain was the place where she was longing for, with its small houses, donkeys, and vast vineyards. Hence she left her home and took two years of advanced courses in Spain.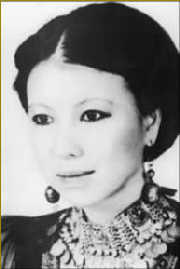 After her time in Spain, followed by trips to Germany and the United States of America, San Mao returned to China'sTaiwan Province. However, before she could even get resettled in her hometown, she experienced a heavy loss:her lover died, prompting San to start another global trek.

This time, the destination was the Sahara Desert (in North Africa), which San had read about in a magazine. She described the reason for starting a new life in the desert as "an unexplained nostalgia."
Upon San Mao's arrival in the Sahara Desert in 1973, she met her husband, He Xi. She enjoyed a happy life mentally to some extent though most people would view the couple's living condition as harsh and unbearable. During that time San Mao wrote many travelogues and novels, which were widely popular. Some of her novels include Sahara Story and The Story of the Weeping Camel.