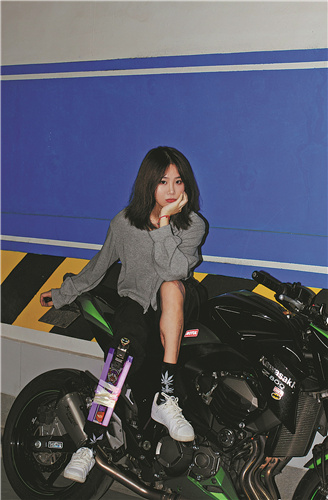 Many social media users nicknamed her as "Iron Man's sister". Some users commented that, in her, they do not see a physically impaired person, but "a bright, sunny and wholesome girl".
A Sina Weibo user named Lululu Shenme comments under one of Niu's posts: "Many people with dreams can see the rays of hope because of you; more people will see your radiance and feel the light."
Darkest moments
Thirteen years ago, the then teenaged Niu was buried under the ruins of her school in Beichuan Qiang autonomous county for three days following the 8.0-magnitude earthquake that hit Wenchuan in southwestern Sichuan province. The fifth-grader was sitting in an English class when, all of a sudden, the quake flattened her primary school which was situated in one of the hardest-hit areas.
"Many students were buried under the ruins," she recalls of the darkest moment in her life. "We cried and shouted, but people on the ground could not hear us. Vaguely, I could hear my mother shouting my name for hours on end. When her voice faded away at last, it was the deepest desperation I have ever experienced."
She was the last student in her school to be rescued and her right leg was so badly damaged it had to be amputated above the knee. When doctors suggested amputating the other leg, fearing a gangrenous infection, her father begged on his knees for them not to.