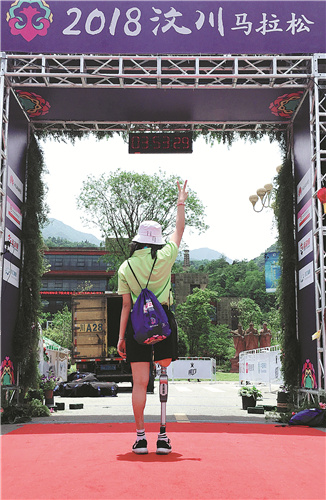 She finished the 21-kilometer marathon in 3 hours and 53 minutes, at times almost walking. But the time did not matter. It was her way to thank the people who helped Wenchuan recover from the earthquake and tell the world that it was all in the past. The present and the future now demanded her attention.
She recalls the last few moments before reaching the finish line. "When I heard people shouting 'China, jiayou (stay strong); Wenchuan, jiayou', I knew that my strength was back," Niu says.
Self-acceptance
Since the race, Niu has begun to embrace herself for who she is.
She keeps reminding herself that the journey of life is short and every fleeting moment counts.
She knows that it is not what she is missing that defines her, but what she has got-courage and confidence.
"When children see people like me walking on the street, I hope that, in their eyes, we can be the superheroes-representing power and courage," Niu says.
In 2018, Niu graduated from Tianfu College of the Southwestern University of Finance and Economics in Chengdu with an associate degree in accounting. However, she didn't become an accountant as her parents had hoped, instead choosing a career in photography.
In late 2018, she went to remote Metog county in southeastern Tibet autonomous region for a monthlong volunteer teacher program. And then the moment arrived. Her students surrounded her, curious about her "iron leg". She knew she had made the right choice and it was her turn to help others and pass on the love.
Now she works as a photographer in Chengdu and she got there her way. Some shots require the photographer to squat, a position ruled out by her artificial leg. Instead, she lies on the ground to click the shutter. "Nobody can define you, but yourself," she says.
Although still suffering from phantom limb pain and having to constantly massage the amputated stump of her right leg to decrease inflammation and muscle waste, Niu knows the prosthetic leg is a part of her beauty and uniqueness.
She always remembers what her father told her, "when you accept your flaws, you become free and strong".
Although Niu hasn't figured out yet just how much she has accepted her flaws, she knows that no one is perfect. Everyone has flaws-visible or invisible-that they want to hide away. And she has learned to appreciate her "imperfection".
"Maybe my way provokes some negative reactions, but I don't care," Niu says.
It seems she can't help but be inspirational.