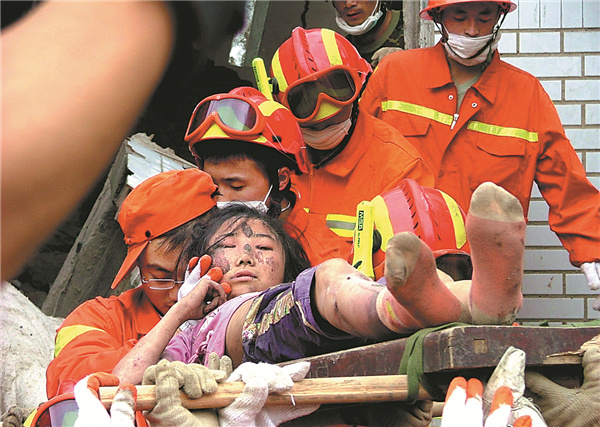 Having more than 30 operations to remove the dead, damaged and infected tissue, and staying in hospital for more than three months, her left leg was finally saved.
Following an excruciating rehabilitation process, Niu has learned to stand on one leg and move with the use of a prosthesis.
As well as losing her right leg, she also lost her younger brother and nine friends who grew up with her.
Niu feels that she is lucky. "At least I survived and I am surrounded by people who love me," Niu says, smiling through eyes welling with tears.
Her trauma caused her to doubt herself. She thought that she would never wear short skirts or tight jeans. She became introverted and refused to take a subway by herself or dine out alone. Every time she went outside, she would tape sponge to her prosthetic leg and wear long trousers to hide her disability, while constantly fearing that her gait would give her away.
The turning point came in 2018, the 10th anniversary of the earthquake, when she registered to run a half marathon, organized by the Wenchuan county government. She decided there and then that enough was enough. It was time to embrace life. Niu wore shorts in the event, showing her prosthetic leg in public.