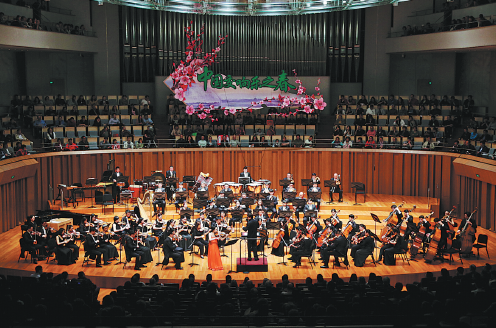 The National Center for the Performing Arts will soon launch its annual China Orchestra Festival. The event showcases and promotes symphony orchestras and Chinese music.
From April 8 to May 7, the festival, in its seventh year, will present 21 concerts featuring 22 symphony orchestras from 14 provinces across the country.
According to Gong Jicheng, vice-president of the NCPA, more than 50 music works by composers spanning the generations will be performed. These include the Yellow River Cantata by composer Xian Xinghai (1905-1945) and the symphonic work Ice and Snow Carnival composed by Tang Jianping for the 2022 Beijing Winter Olympic Games. The festival will also mark the 100th anniversary of the founding of the Communist Party of China.
A concert featuring the Wuhan Philharmonic Orchestra and conductor Shao En will open the festival on April 8. Wuhan was the city hit hardest by COVID-19 in China. It went through a lockdown of nearly 80 days and April 8 marks a year since the government lifted the lockdown.
To pay tribute to the people who fought against the epidemic in Wuhan in 2020 and to celebrate the city's triumph, a music piece, titled Reborn From the Fire, will be staged during the opening concert.
"Due to the COVID-19 pandemic, we have canceled many concerts. Now, we feel grateful that we could go back to the concert halls and enjoy music," says Gong.