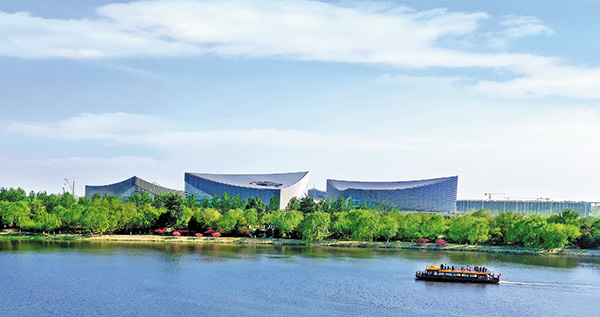 When looking out across the lush forest along the banks of the Grand Canal, three major landmarks will jump into view.
They have emerged at the far end of the grand Central Green Forest Park in Tongzhou district, a subcenter of Beijing, and now form a recognizable part of the skyline.
Almost ready to be opened to the public, the buildings that will serve as a theater, a museum and a library, respectively, are expected to add to the vibrant cultural atmosphere in the capital city.
The theater was the first to take shape, and workers have been busy on the site with the interior decor, hoping to wrap up the whole construction this month. The exterior facade, adorned with over 4,000 folded aluminum panels, gives it a stunning beauty against the backdrop of the blue sky.
"The design concept draws inspiration from the ancient granaries along the canal in Tongzhou," says Jiang Tao, who is in charge of the theater's operation management.
Proximity to the canal and the forest scenery is also perfect for future outdoor music festival and immersive theater performances, Jiang adds.
The art center in Tongzhou features multiple cultural venues, including a concert hall and an opera house, and will offer a combined seating capacity of approximately 5,700 seats. It will be run by the National Centre for the Performing Arts.
Jiang says that all of the venues have their own backstage areas, while having access to some shared makeup rooms and passageways, in order to better utilize the space.
"We have formulated a five-year development plan from 2023 to 2027, with the aim of gradually achieving an annual schedule of 600 events, with 650 performances," Jiang says, adding that this level of activity is nearly equivalent to the scale of the National Centre for the Performing Arts.
The shows staged at the Tongzhou theater will be more focused on the needs of young people and families and thus lean toward more diverse performance forms such as musicals, plays and dances, immersive plays and outdoor concerts that can help create a relaxed and joyful atmosphere, he says.
The theater will also incorporate elements of the canal and the culture characteristic of the Beijing-Tianjin-Hebei region to distinguish itself from the NCPA.
"In addition to the performances, we want to create a comprehensive platform for artistic experiences, organize activities that involve the audience, launch more educational initiatives and nurture young talent," Jiang says.