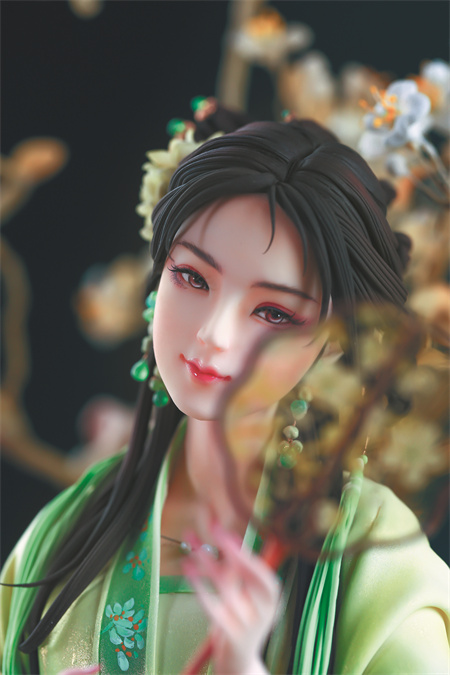 His most popular works, though, are the detailed and exquisite portraiture of fictional characters that allow him to exert his imagination and creativity.
"I am fascinated by traditional Chinese culture, such as hanfu, ornaments, artifacts and stories. We have so many original characters and stories, but not enough people to elaborate on these characters to make them vivid and memorable," Zhou says.
"This is a passion of mine and something I'll keep working on, with the hope of introducing these Chinese cultural elements to more people through aesthetically pleasing works."
He recently collaborated with MGM China Holdings Ltd on presenting an exhibition at MGM Cotai resort in Macao, for which he created five fondant sculptures over 2 meters tall that highlight the culture of South China, or Lingnan, such as lion dancing and morning tea.
" (This exhibition) rejuvenates Chinese traditional culture by presenting traditional festivity, etiquette and livelihood in a contemporary manner and infusing the influence of guochao (a Chinese consumer trend that modernizes traditional culture), to merge art with life," says Pansy Ho, co-chairperson and executive director of MGM China Holdings Ltd.
Zhou continues to refine his skills and perfect his recipes, producing fondant cakes that are both exquisite and appetizing.
When looking back at the works he produced several years ago, even the award-winning ones, he feels like he has made progress in terms of his skill and representation of Chinese culture.
"Innovation is a process of constantly learning. I plan to keep a close eye on Chinese history and culture, and also to exchange with the cultures of other countries and regions, so as to present Chinese traditional culture in the most innovative ways I can," Zhou adds.