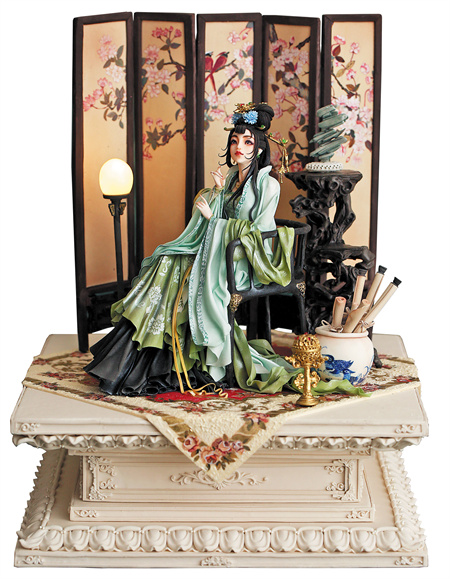 One of his latest creations — combining the likeness of a flying apsara (a fairy, or feitian in Chinese) with a mythological beast that is half fish and half bird, from the ancient text Classic of Mountains and Seas, and whose appearance bodes well for a good harvest — took him four months to complete.
The cake presents a scene found in a mural at Gansu province's Mogao Caves, where the flying apsara is shown to be playing pipa (a Chinese plucked string instrument) in an unusual reversed posture, with the instrument raised high in the air at the back of her head.
Apart from fondant, Zhou also used the traditional pulled sugar technique in parts of the work, such as the pipa, to give the instrument a translucent effect that matches the ethereal quality of the goddess.
"I don't think cakes are just for eating. They are also a medium that is able to carry many creative ideas. The cultural heritage of Chinese civilization over the millennia can take on new and vibrant forms on a small piece of cake," Zhou says.
The 40-year-old learned Chinese cooking techniques at the Sichuan Tourism University in Chengdu, Sichuan province.