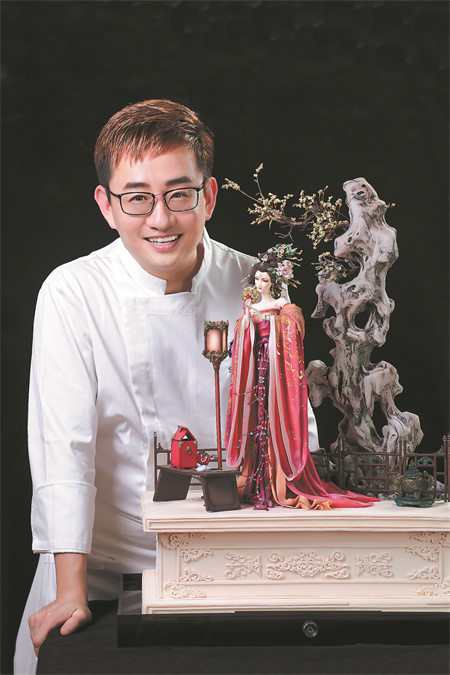 Despite the casual tone with which he recalls the experience, he faced a grueling schedule when preparing for the competition.
Aside from making his two entries within seven days, he also had to supervise the work of his other team members.
Grabbing only a few hours of sleep each night was the norm.
He tells one anecdote about his entry that portrayed a girl dressed in hanfu (a traditional style of Chinese attire), leaning on a piece of rock in a lake. For the piece, he used pulled sugar to portray the water, which was too thick to cut through, disqualifying it from the category it was initially submitted to.
However, the judges thought the cake was a wonderful piece and made an exception, transferring the entry to the "decorative exhibit" category, where it won Zhou a bronze.
Zhou and his team returned to Cake International in 2019, breaking their previous record and claiming a total of four gold awards.
Over the years, he has continued to hone his fondant-shaping skills while tapping Chinese cultural elements for inspiration, creating works ranging from fondant replicas of archaeological artifacts to elaborate scenes that depict cultural traditions.