A Lantern Festival gala was hosted in the Republic of Fiji on Feb 5, as a part of the "2023 Happy Chinese New Year" event series.
The gala was co-hosted by the Chinese embassy in Fiji, the China Cultural Centre in Fiji, Yuelai Hotel and the Chinese Association of Fiji, and joined by about 300 government officials, representatives from Fiji's Chinese community and companies.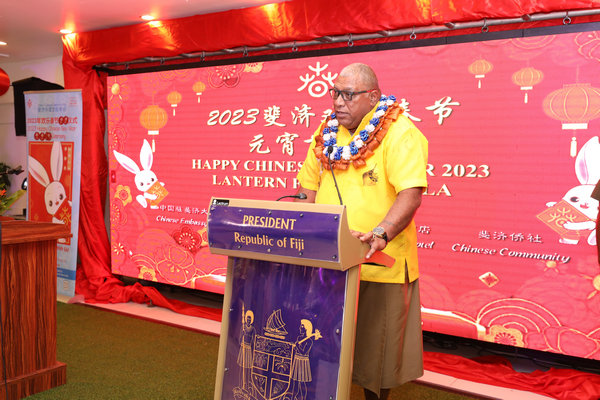 Fijian President Ratu Wiliame Maivalili Katonivere, along with first lady Filomena Katonivere, attended the event and gave a speech, in which he said that the Lantern Festival is an important time to celebrate with families as the lanterns play a titular role in lighting the path ahead, signifying light, hope and good fortune.
"I wish to encourage and express to the Chinese Community in Fiji our appreciation for your numerous contributions and achievements and I wish to encourage the community to continue to grow and to contribute to the developments that will bring hope and common good for everyone," Fijian President Katonivere said.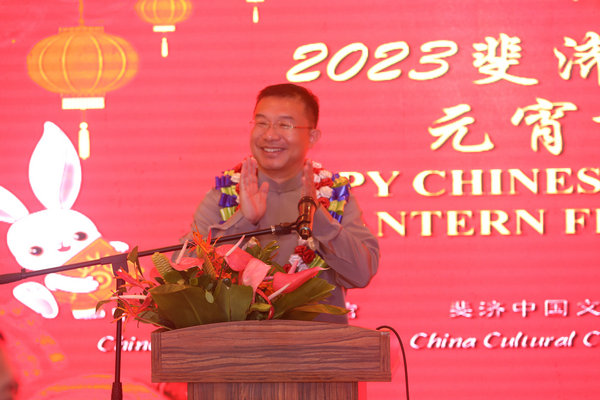 The newly inaugurated Chinese ambassador to Fiji, Zhou Jian, said in his speech that he will work with the Fijian government and the Chinese community in Fiji to promote the development of Sino-Fijian exchanges and cooperation in various fields as well as provide favorable results that will benefit both countries and their people.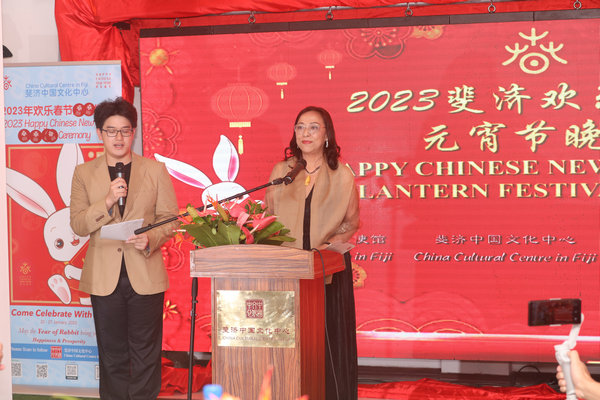 Han Xiaoyan, Director of China Cultural Centre in Fiji, introduced in her speech the history and customs of Spring Festival, its cultural and spiritual connotations, the ways modern Chinese people celebrate this festival, and the concepts of joy, harmony and sharing.
Artists from China and Fiji gave performances at the gala that showcased traditional cultural elements from both countries. Fijian Chinese Chen Chen performed drum music from Southwest China's Yunnan province.
Before the gala, Fijian President Katonivere and ambassador Zhou, accompanied by Han, visited a tourism promotion exhibition taking place at the China Cultural Centre in Fiji that highlights China's snow holiday destinations.