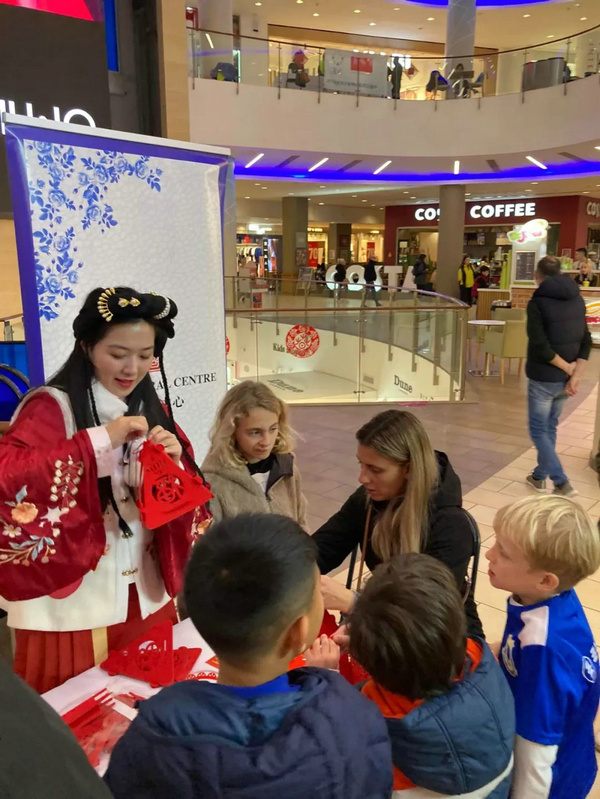 Casper, a young Dane, was deeply attracted by the Chinese calligraphy. He, accompanied by his Maltese girlfriend, told Xinhua that he liked China very much and planned to visit China this summer, with east China's Shanghai as his first stop.
During the event, doctors of the Chinese medical team from the Mediterranean Regional Centre for Traditional Chinese Medicine (MRCTCM) presented basic traditional Chinese medicine (TCM) and culture and provided free medical services to people onsite.
Maltese resident Alfred Farrugia, 72, told Xinhua that four sessions of TCM treatment freed him from back pain, which had tortured him for a long time. And he wanted to recommend the treatment to his friends, noting its effectiveness and the affordable cost.
Students from the Malta Chinese School dressed in traditional costumes sent blessings while the gourmet stalls, set up by the Chinese Community Association in Malta, featured different kinds of traditional Chinese snacks, attracting most for the first time to taste them.
Participants also feature locals from other parts of the country who, accompanied by families and friends, are eager to experience and share the joy of the Chinese Lunar New Year.