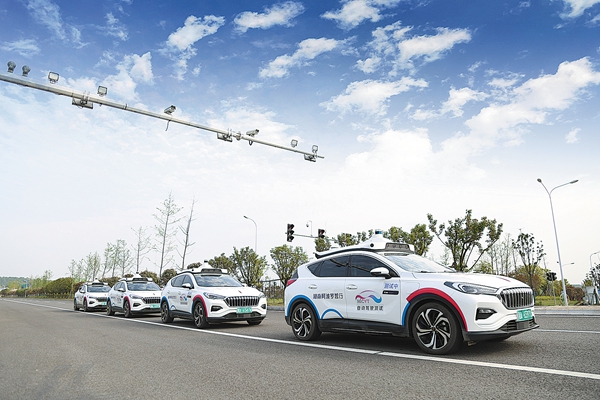 Changsha, capital of Hunan province, is boosting the digital economy through its ceaseless efforts in constructing key projects and supporting smart technologies and innovation.
The city is home to China's third supercomputing center and the first supercomputing center in Central China-the National Supercomputing Changsha Center-as well as the Tianhe supercomputer, Xiangjiang Laboratory and other digital innovation enterprises.
In December 2021, the Zhongnan Digital Industrial Park, the largest digital new infrastructure landmark project in Hunan, officially started construction. With a total investment of 12 billion yuan ($1.7 billion), it is the largest digital new infrastructure project in the province.
Upon completion, it will become China Telecom's fifth-largest regional data center, helping Hunan to become an information highland in the central region.
On July 10, the opening ceremony of Xiangjiang Laboratory was held in Beidou Industrial Park, Changsha High-Tech Industrial Development Zone. It was the first provincial laboratory to be revealed in Hunan. Xiangjiang Laboratory is a major innovation platform for Hunan to strengthen the support for computing power.
The laboratory focuses on the fields of advanced computing and artificial intelligence, and is committed to becoming a national advanced computing and AI research center.
"The construction of Xiangjiang Laboratory is of great and far-reaching significance for Hunan to strengthen computing power, optimize the digital economy and lead the high-quality development of the computing industry, economy and society," said Li Zhijian, head of the Hunan Provincial Science and Technology Department.
The scale of Changsha's digital industry has created a cluster effect. The total output value of Changsha's subsidized security computing system industry cluster has reached 135 billion yuan.
In August, Changsha's Xiangjiang New Area officially launched a demonstration experiment to provide self-driving travel charging services to the public. The operator put 30 intelligent connected vehicles on a 175-kilometer open test road in the demonstration area, and opened more than 300 test ride sites.