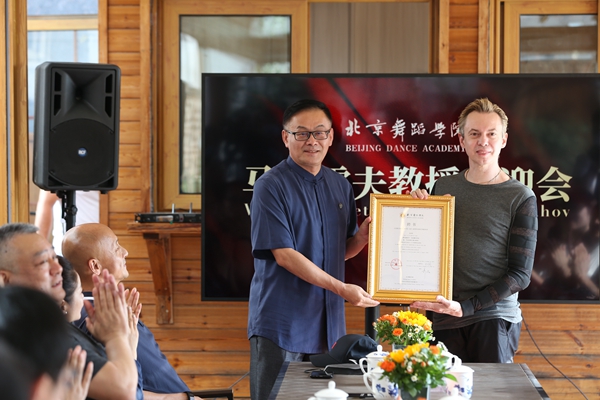 Forums, workshops and master classes revolving around the ballet master will be held at the school over the next three years.
Malakhov will choose top students from the ballet department of the school and "prepare them for a big future", the dancer-choreographer says.
"It's hard to describe what kind of qualities the dancers need to have to be called 'top talent' but I have a special eye for them," he says.
In 2013, as the artistic director of the Staatsballett Berlin, Malakhov made his debut performance in China with the German company, performing a ballet gala and his new version of La Peri, adapted from an 1843 ballet choreographed by Jean Coralli, at the National Centre for the Performing Arts in Beijing.
In 2019, he returned to China along with eight world-renowned ballet stars, presenting two shows under the title of Malakhov and Friends at the NCPA in Beijing. The shows featured 15 pieces, including classic ballet selections such as La Esmeralda, Don Quixote and The Nutcracker, as well as modern ballet works in different styles.
Malakhov performed two solo pieces: The Dying Swan and Lost, receiving warm feedback from the audience with his solid techniques and emotive movements.
"I was amazed by the Chinese audiences during my trips to the country. In 2019, after the shows, I started to think about working in China. Now I am here," he says.
"There's quite a difference between touring and living in a different country. When I toured here, it was very quick and I had no time to explore the cities, but now, after settling down, I will slowly feel the country and its culture," he adds. "I will create something just for China."
Malakhov also notes that the COVID-19 pandemic has heavily affected the global dance scene. He was supposed to have a great year in 2020 with lots of projects, which were all canceled. He started to give online courses to young dancers during the pandemic.
"You need to have hope, not to bring yourself down. Life continues and you need to have other challenges to fulfill your wishes, knowing what you need to do," Malakhov says.
As a teacher, he describes himself as "very strict", because that was how he was trained by his teacher, Peter Pestov, one of the best classical ballet teachers in the world.
"Talent must be treated differently. When you are a child, you don't think too much. But school is one thing and dancing with a company is another," he says. "It is all about hard work. Everything the audience sees is the final part. You don't see how many times I fell down in the studio, how many times I hurt myself, or how many times I cried. You have to be strong enough."
One of the ways Malakhov relaxes is by cooking, which is a motivation and brings his energy back. He loves Chinese food, especially Peking roast duck, and he has already learned to cook Chinese dishes, he adds.