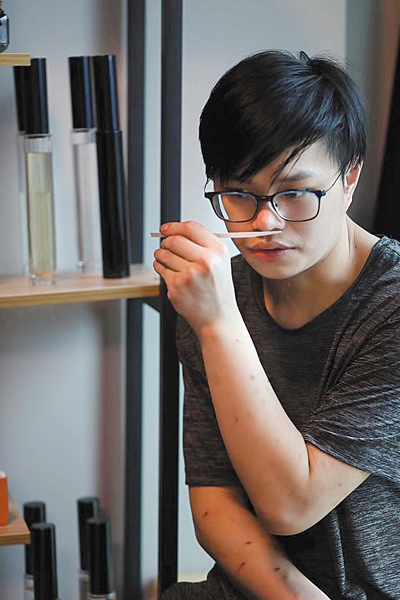 The failure forced him to realize that there was no shortcut to gain success. Therefore, he spent three years to understand raw materials of fragrances and another three years on enhancing his techniques, and knowledge of regulations and organic chemistry.
"Through years of exploring, I've started to learn the meaning of fragrance, which can be expressed with feelings, emotions and understanding of what I've experienced, just like words that I can write down," says Lou, who is currently a third-year student majoring in material science at Pennsylvania State University in the United States.
In Lou's mind, a professional perfumer should be sensitive to discover the mystery in the raw materials like a scientist and be creative to have an aesthetic concept on creating the perfumes like an artist.
"It is essential to master certain professional knowledge to ensure that the mixture of chemicals is safe, so composing a fragrance is like doing a chemistry experiment with artistic elements, and the perfume is a combination of chemical products and artwork," says Lou.