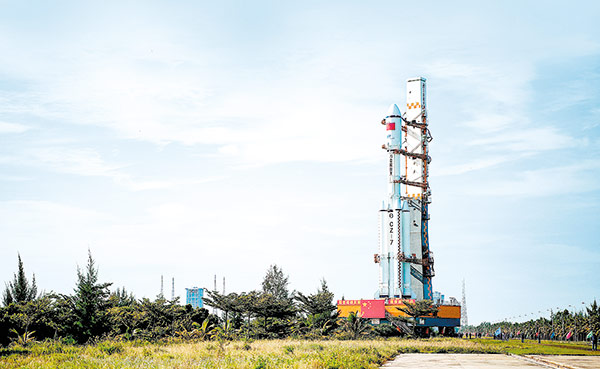 Attracting new fans
Such online videos about rocket launches have also inspired others, including Yu Jiawei, who realized that watching a rocket launch on-site is not a pipe dream that can never be fulfilled.
She first went to film a rocket launch with a classmate, because they wanted to make a short documentary as their graduation project.
"It became an indelible memory when I watched it on the beach, surrounded by coconut trees," says Yu, 23. She became a full-time member of SpaceLens when she graduated from university last year.
"It's important for photographers to arrive several hours in advance to ensure a good spot for filming. Those who come for the first time often choose the tops of nearby buildings," she says. "The process of waiting is dull but it's worthwhile."
On the beach, tourists often have barbecues in front of their tents and walk their dogs, while waiting for the rocket launch.
"Beach, coconut trees, crowds and a rocket launch are perfect ingredients to arouse children's interest in aerospace and sow a seed in their hearts," Yu says.
She adds that they recently established a booth on the beach to promote knowledge about rocket launches and also provide services to photographers.
"A craze for aerospace events in China has emerged over the past two years. I'm happy that our team has made our contribution, inspiring the general public to watch rocket launches," she says.