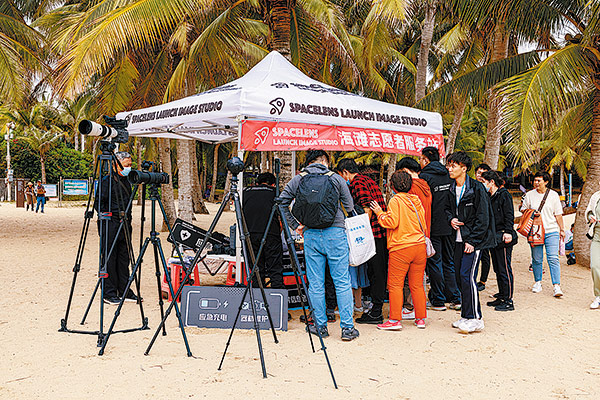 A dream come true
Yang Jingchen, 19, a sophomore student from the Civil Aviation University of China in Tianjin, writes science popularization articles about aerospace for the social media accounts of SpaceLens.
"Being in the team allows me to have more opportunities to communicate with insiders and experts, enabling me to expand my professional knowledge. I can also share my understanding of the aerospace sector via SpaceLens," he says.
When he was about 5 years old, he became interested in all things cosmic after reading children's books about the solar system and rockets.
The first rocket launch Yang recalls seeing was as a first-grade primary school student. It was a live TV broadcast that he watched with his family.
It was in September 2008 during the Shenzhou VII mission, when Zhai Zhigang became the first Chinese astronaut to conduct a spacewalk.
"I was thrilled to see the whole site suddenly illuminated as the rocket lifted off, and I couldn't help clapping my hands. When I watched the spacewalk, I was excited to see our awe-inspiring national flag," Yang says.
He watched the broadcast repeatedly until he knew the commentary by heart, and, bitten by the bug, he started reading related books in library.
In 2020, he went to witness his first rocket launch in person.
"I was overwhelmed by the brightness and the rumbling sound. It seemed that the ground was being ripped apart. I couldn't stop my legs from shaking," he recalls.
Yang only started to relax when the rocket disappeared among the clouds, he adds, and he began anxiously waiting for follow-up news. He breathed a sigh of relief when he read online that the rocket had successfully reached its orbit.
Yang suggests that the audience concentrate on the whole process, including the wait, and not just the fleeting moment of the launch.
The International Space Station is visible to the naked eye at specific times, resembling a star, trekking across the sky.
Yang recalls that, when he was about 13, he and his father saw the International Space Station at night. He asked whether China had its own space station, and his father answered with confidence that there would be one in the future.
That's why Yang was so thrilled to watch the launch of the Tianhe core module last year, shedding a few tears as he did so.