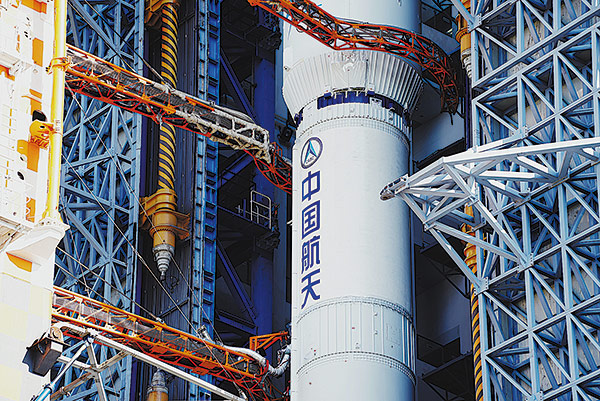 The countdown. Ignition. Liftoff. The ground shakes. Plumes of exhaust and flame billow. And then a roar as the rocket ascends. An audience, at a safe distance some kilometers away, watches in awe as the event unfolds as if, at first, in slow motion as the rocket almost reluctantly reaches for the sky. Some of those viewing are there not just to witness but to record the process on livestreams, or through videos and photos that they share online.
They're SpaceLens-a group of young volunteer photographers, mostly university students and recent graduates.
Xie Jixiao and his friends co-founded the group about a year ago because they wanted to film the launch of China's Tiangong Space Station's core module Tianhe.
Last year witnessed great achievements for China's space industry, such as the successful completion of the first phase of its ambitious Tiangong space station program and landing a rover on Mars for scientific exploration. Additionally, 55 orbital launches last year saw the country rank No 1 globally in rocket launches.
When Xie first went to film rocket launches in 2020, he would take three or four cameras with tripods and different lenses. However, he soon realized that it meant he could only capture his various short videos and photos at a fixed spot.
"Many hands make light work, I thought. Why not get more people to shoot from different locations?" Xie, 22, who graduated from university last year, explains.
When the Tianhe core module was launched into space at the Wenchang Space Launch Center in Hainan province last April, Xie and his friends rallied 40 volunteer photographers and 10 coordinators for their ambitious project.
The final short video went viral online, and Xinhua News Agency also posted it on their Bilibili account, attracting over 620,000 views.
"Good content matters. It's easier to make an excellent short video from lots of materials, gathered by everybody. Our work can be watched by more people, especially after being shared by a major media outlet," Xie says.