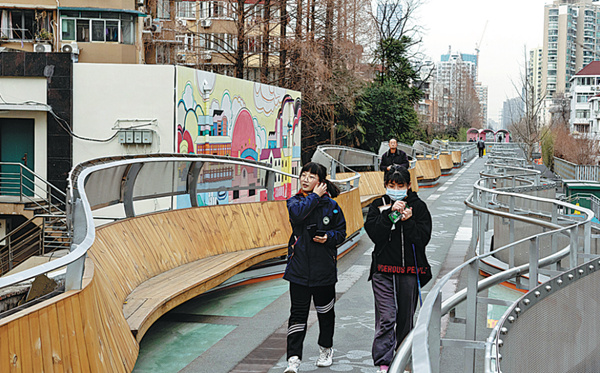 Urban developers are seeking to transform public areas through a people-centric approach, Xing Yi reports in Shanghai.
Despite living in a city that has one of the highest population densities in the world-more than 23,000 people live per square kilometer in the downtown area-the residents of Shanghai have seen public spaces mushroom over the past five years as the campaign for micro-renewal of urban spaces continues to gather pace.
But with few open spaces, developers have had to get creative with their approach. For instance, public amenities such as sports equipment, activity rooms, benches and jogging trails have been introduced in formerly underutilized and sealed off spaces like beneath overpasses, deserted warehouses and basements of old housing communities.
The title of a design contest on urban renewal aptly describes these pockets of development in the city as "a metamorphosis at your doorstep".
Organized by the Shanghai Commission of Housing and Urban-Rural Development, the recent contest saw dozens of participants submit proposals for renewal plans for 101 locations in the city.
Zhu Weikun, a master's student of urban planning at Tongji University, is part of a team that saw its proposal accepted. Sixty-four teams had their plans approved for implementation.
"I was thrilled when the organizer told us that we will get a chance to implement our design and turn the blueprint into reality," says Zhu, who participated in the contest in November with her classmates.