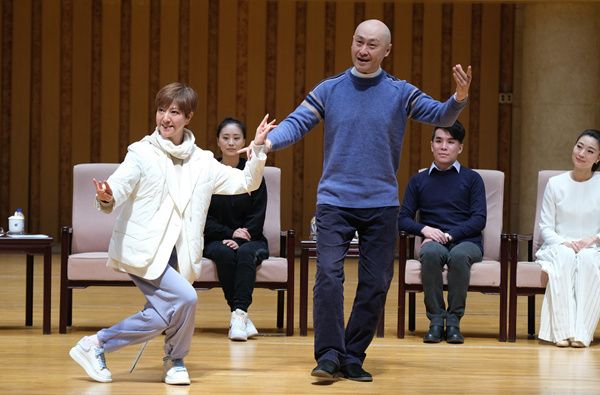 Kunqu Opera company is set to present spring-to-summer performances, Chen Nan reports.
Northern Kunqu Opera Theater, a renowned professional troupe in northern China dedicated to the traditional art form that dates back to some 600 years, will present three performances at the Forbidden City Concert Hall in Beijing from April to June.
Highlights of the performances will include excerpts from classic pieces, such as The Palace of Eternal Life written by playwright Hong Sheng of the Qing Dynasty (1644-1911), Romance of the West Chamber written by playwright Wang Shifu of the Yuan Dynasty (1271-1368) and The Peony Pavilion written by playwright Tang Xianzu of the Ming Dynasty (1368-1644).
On April 20, the theater will bring excerpts from The Phoenix Mountain, a play written in the late Ming Dynasty.
It tells the story of a beautiful princess assisting her father in plotting a coup and falling in love with a young man, named Hai Jun, who is sent by the emperor's enemy to spy on the emperor. The princess gives Hai a sword as a token of love and later Hai helps the emperor foil the enemy's plans.
On May 2, audiences will enjoy The Story of Jade Hairpin, a romantic love story written by Ming Dynasty playwright Gao Lian. On June 21, The Palace of Eternal Life and The Peony Pavilion will be staged, both exploring the theme of eternal love.
"All of the Kunqu Opera pieces are about love, romantic and poetic," says award-winning actress Wei Chunrong.