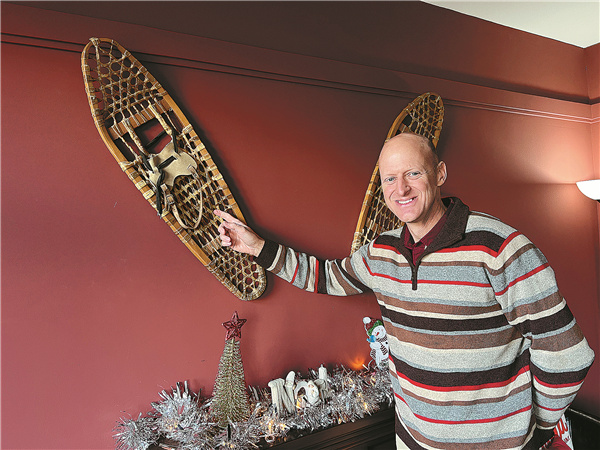 When people come to the Wandering Moose Cafe in Liaoning province's Dalian Jinpu New Area, they are able to taste specialty coffee and sample the flavor of Canada.
That is what its owner, Brian Clark, hopes. The Canadian entrepreneur registered his company-Dalian Legacy Coffee-in the northeastern port city in 2016 and got a restaurant license two years later.
In the cafe, people can enjoy the layered cookies known as Nanaimo bars, butter tarts and other Canadian food. They can see the decorations Clark collected from his country-including 100-year-old ice skates. The paint on the walls is maple leaf red.
Clark embarked on his business journey in 2000 by learning how to roast coffee from a Jamaican friend in Hamilton, Ontario. When he and his wife decided to move to China in 2008, he already owned a coffee wholesale company.
His friends told him he was crazy to go to a tea country to sell coffee. But he was undeterred.
"I know China has high quality coffee," Clark recalled.
So far so good.
He appreciates and enjoys Chinese tea culture and finds similarities between tea and coffee.
"Many of the tea masters and lovers I've met really enjoy talking about the similarities," he said.
Clark said it has been a good experience working with others in the Chinese coffee business.
"When I started the shop, there were not many customers who knew much about coffee. These days, more customers are coffee professionals," he said.
As for Dalian, he finds it a wonderful city to raise his family and a great place for an entrepreneur.
"It is a beautiful modern city that's friendly and affordable for a small entrepreneur like me but also has the infrastructure to attract larger businesses," he said.
Clark has established good friendships and business relations. His local friends have helped him through the process of starting his business. When he had to do things on his own, government officials were patient and helpful, he said.
He tries to do as much sourcing for his business locally, as well as personal purchasing.
In his cafe, Clark offers more than 20 types of beans from around the world. He has a preference for beans from Yunnan province. A blended coffee that he named Daheishan after a famous mountain in Dalian, uses beans from Africa, South America and Yunnan.
Clark used to go to the southwestern province two or three times a year. It is amazing that in little more than a decade local governments and coffee growers in Yunnan have striven to put Yunnan on the world coffee map with some excellent specialty coffees. It is making a growing contribution to the commercial market, he said.
It was in Pu'er, Yunnan, that Clark became a Q Arabica grader in 2018. The certificate is presented by the Coffee Quality Institute for specialty tasters of Arabica coffee.
He has been a judge for China's brewers cup twice and a judge for the best of Yunnan green bean competition once.
Because of the pandemic, the Wandering Moose Cafe closed for about two months in the beginning of 2020.
"The cafe is not my bread and butter," Clark said.
He and his friends designed an equipment to reduce coffee roasters' emissions, which are sold worldwide.