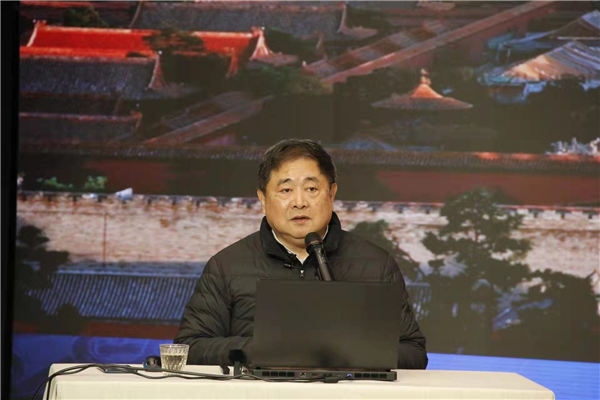 A lecture introducing the ancient architectural complex on the Beijing central axis was recently held in Beijing, which reveals the Chinese philosophical thinking, ritual culture contained in the architecture, and the meaning of heritage protection.
The lecture, titled "Retain the root and soul of urban culture", was delivered by Shan Jixiang, former curator of the Palace Museum in Beijing, and president of the China Cultural Relics Academy.
Taking the Grand Canal's application for the world heritage list as an example, Shan said two things are important in the application for world heritage of Beijing's central axis: From cultural relic protection to cultural heritage protection; heritage protection is not only the government's work, but also common cause of millions of people.
Beijing central axis, the longest and most completely preserved ancient city axis in the world, stretches from Yongding Gate to Bell and Drum Towers with a length of around 7.8 kilometers. It has formed a unique urban cultural landscape combining ecology, economy, politics, culture and society.
Shan shared the historical changes, cultural significance and stories behind the ancient architectural complex, time-honored brands and cultural relics along Beijing's central axis, bringing audiences to appreciate the urban cultural landscape and feel the splendid city culture.
He stressed that for the protection of the central axis, we should not only protect the cultural elements, but also the cultural landscape; not only the material elements, but also the immaterial elements. By placing the central axis into the chain of history, the protection should be dynamic, complete and sustainable.
The lecture featured part of activity of the "Beijing central axis cultural heritage lecture hall" series which invited experts to interpret the central axis culture.