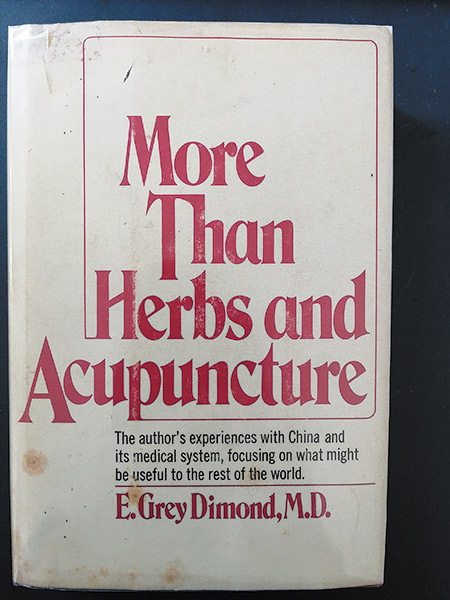 "When word came from Rewi Alley that the Red Army needed a Western-trained doctor, I was delighted, "recalled Hatem, who came to China as a medical student intent on studying tropical diseases, many years later.
From Shanghai Hatem embarked on his own separate journey toward the "Red Zone", one that intersected with Snow's when the two arrived at Zhengzhou in Central China, a major railroad junction. They completed the rest of their journey together, winning each other's trust as they tried successfully to slip through the military blockade of the Nationalists, at risk to their own lives.
As Snow left at the end of his five-month stay to work on his "scoop of the century", Hatem stayed, became a Red Army doctor and married a Chinese woman. By the time Dimond met him for the first time in 1971, equipped with a letter of introduction from Snow, Hatem had become known as the man responsible for ridding China of venereal diseases, or simply the most famous American living in China.
In April 1978, at the arrangement of Dimond, the "Dr. Horse of China" as Dimond called Hatem, made his first visit in 50 years to his native United States. (Hatem's Chinese surname Ma could also mean horse.)
The sentimental journey took him to his hometown in Buffalo, New York, where, when asked if he thought China was the best of all worlds, he replied,"China is the best for China." He later delivered a speech before the United States-China People's Friendship Association in San Francisco.
"It was a mellow time, a time for reflection, comparison, mending ties, a time needed to complete one's life cycle," Dimond wrote in his 1983 book Inside China Today, one filled with his long conversations with Hatem.
Some of those conversations were joined by Alley, whose Beijing home Dimond had tried unsuccessfully to locate during his first trip there, with a hand-drawn map from Snow.
In 1939, two years after Red Star Over China was published, Snow returned to Shaanxi to report on a burgeoning form of mobile, small-scale production units known as Gung Ho, or industrial cooperatives. Set up everywhere, including in cave dwellings, they had the unique advantage of escaping Japanese bombing, while providing desperately needed wartime materials for frontline soldiers and jobs for the millions of refugees who had trekked west.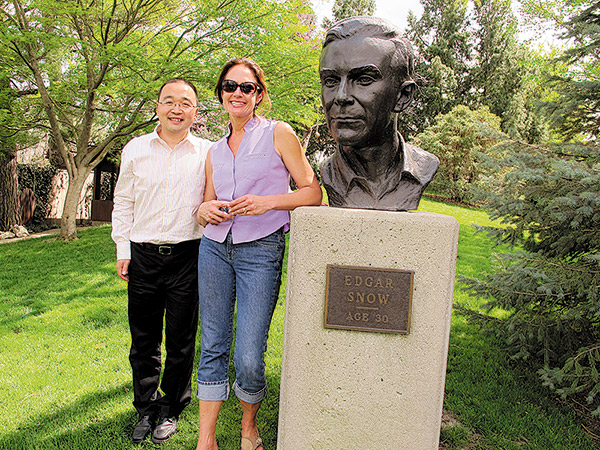 The idea was mainly that of Alley, who oversaw its implementation and is known today as "the father of Gung Ho".
Dubbing it "guerrilla industry",Snow not only contributed to the very idea of Gung Ho, but was also actively involved in it.
While the Alley in Snow's 1958 autobiography Journey to the Beginning was a "red-haired, broad-chested, driving man with legs like tree trunks", the Alley Dimond came to know in the 70s and 80s was "pink-haired, mellow, moves with unshakable calm and speaks in slow, careful cadence".
"(Hatem and Alley) walking arm in arm, very slowly, heads together, chatting away like two upright bears" was one soothing picture Dimond painted. Between them, Hatem and Alley filled for Dimond more than a few narrative gaps in Snow's life journey, while having their own remarkable journeys witnessed by a man infinitely inspired by their long-gone friend.
Both Hatem and Alley died in the late 1980s, deeply mourned by Dimond. But more devastating was the sudden loss of his wife five years earlier. On June 8, 1983, after organizing and hosting the first edition of the Edgar Snow Symposium, Mary Dimond, president of the Edgar Snow Memorial Foundation, died in her sleep from a heart attack, at the age of 67. The couple had planned to divide their time between their home in Kansas City and a ranch in California.
The grieving, done by Dimond in private, was not lost on Wu Tong, daughter of Dr. Wu Weiran, who was among the first to meet Dimond when he arrived in China in 1971 and who headed the Chinese physicians' delegation to the US in 1972. Coming to the US in 1980 to study at the University of Missouri-Kansas City School of Medicine, which Dimond founded, Wu Tong became the couple's adopted daughter and stayed with them at their home for more than two years.
"In my first year in the States, every night after dinner, Mary would spend an hour practicing English with me," recalled Wu Tong, an eye doctor in her 60s.