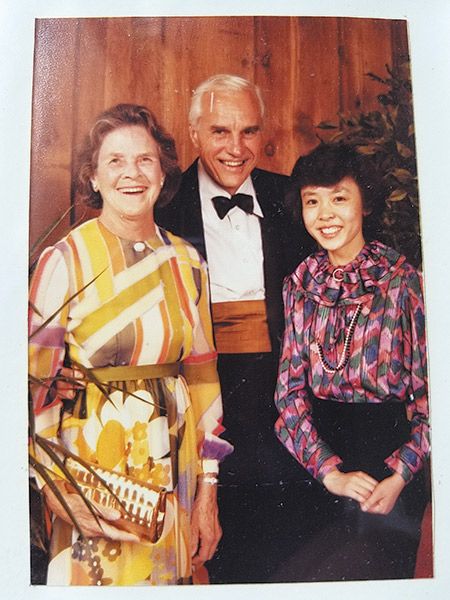 "Together they had been to many places in China, had lived in tents in areas where there was no running water. They never complained-in fact, they savored every moment of it," said Wu. "I remember stealing a glimpse of Dr. Dimond in his study, not long after Mary's passing. He was just sitting there, in a trance, which is very untypical of him."
"I let my life sleep for a while, mulled, thought, weighed," Dimond wrote. "I decided to stay put at 25th and Holmes (the couple's Kansas City home address) and wave the flag more vigorously, permanently."
Dimond later took on the presidency of the foundation and continued the biennial symposium, which, with the participation of Huang and his successors, has been taking place alternatively in Kansas City and in China.
Because of the pandemic the 19th Edgar Snow Symposium in Beijing next month will be held as an online event.
"When the official channels of diplomacy become obstructed by clamor and conflict, the work of international friendship and interpersonal communication can help to bridge the gap of intercultural perceptions and keep the conversation moving forward in a positive direction," said James McKusick, the foundation's former president, referring to the current poor state of the relationship between China and the US.
One person who is behind this year's event is Sun Hua, director of Peking University's China Center for Edgar Snow Studies. "The center was established in 1993 at the initiation of Huang Hua, who served as its honorary director before his own passing in 2010," Sun said. "Why Peking University? Because this is where Snow is buried, in China."
In a note that Snow wrote, and which his wife Lois Wheeler (1920-2018) discovered in the days after he died, he said: "Someone please scatter some of my ashes over the city of Peking, and say that I loved China. I should like part of me to stay there after death as it always did during life." (Snow married Wheeler in 1949, after his divorce from Helen Foster, whom he had married in 1932.)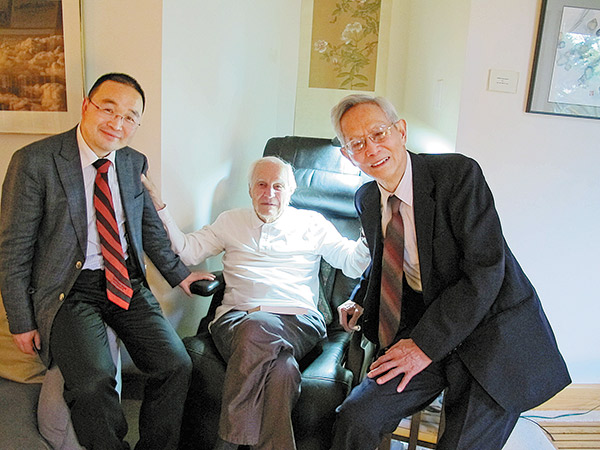 The wish was fulfilled on October 19, 1973, as Wheeler, escorted by Hatem, arrived on the campus of Peking University for the burial of half of Snow's ashes, in a ceremony attended by premier Zhou. It was on that campus that Snow taught journalism in the 1930s, with Huang among his students.
Snow's note also said:"America fostered and nourished me. I should like part of the same residue scattered over the Hudson River, to join other debris which touches our shores."
Dimond took part in carrying out that part of the wish with the Snow family at Sneden's Landing in upstate New York, near the Hudson River.
Wheeler later gave a large collection of Snow's papers, pictures, film footage and memorabilia to the University of Missouri-Kansas City, with which the Edgar Snow Foundation is affiliated.
In the summer of 2012 Sun visited Dimond at this Kansas City home for the first time. There, in a redwood building on the university campus he discovered what Dimond must have discovered at Hatem's living room in Beijing:"Pure USA with a Chinese heart", as Dimond put it. With memorabilia from all his China trips artfully on display, the space had been turned into a scholars' center, dedicated to things in which "we both, Mary and Grey, have a faith"-"human dialogue, social intercourse, the amenities of scholarly communication."
Walking around the 3-acre oasis with Asian-garden inspired grounds, Sun saw beautiful little gravestones with Chinese characters on them. "It turned out that Dimond had given his pet dogs highly entertaining Chinese names,"Ma ma hu hu, meaning so-so, for example," Sun said.
By the time of Sun's visit, Dimond had stopped traveling to China because of the infirmities of age. But before that he had passed on his passion for China to many around him, including Hill.
Following in the footsteps of Snow and Dimond, Hill found herself in the cave dwellings once inhabited by the "Red Bandits", "storied, magical" places where "time seems to have slowed down", she said.
"Dr. Dimond always said that there's this natural harmony between Americans and Chinese-both are secular, fun-loving people endowed with the same sense of humor," said Hill, who joined the foundation's board in 2012, after her first trip to China, where "the Snow legacy feels so much more real and present".