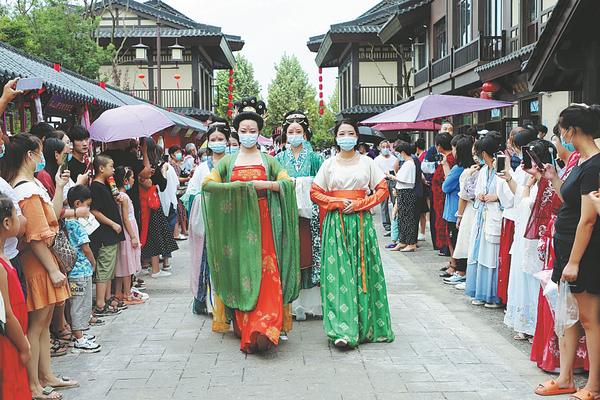 She settled down in Xiuwu after she heard that the local government was developing an industry based on hanfu.
"It was close to my hometown Anyang (city)," Wang says, adding that the local government's incentives for businesses strengthened her resolve to move her hanfu undertakings to the town.
"For example, they don't charge for rental, instead taking a cut of the turnover. That can ease a bit of the pressure, especially from the start."
Wang livestreams the process of designing and making her hanfu wares on the short-video platform Douyin, and she has more than 30,000 followers.
She can sense the rise in public enthusiasm for hanfu, she says.
"I haven't seen many people wearing Han attire in the north of the country, except in places such as Hangzhou," she says.
But now many travelers, especially those between 20 and 30, are turning up in hanfu at the resort.
The number of hanfu fans is expected to reach 6.89 million this year, and market sales at least 10.16 billion yuan ($1.58 billion), the market consultancy iiMedia Research says.
A report from the business media outlet Yicai and Tmall said that in 2019 females born after 1995 accounted for 80 percent of those spending money on hanfu.
Forward (Qianzhan) Intelligence, a financial research services provider, says a little more than 60 percent of people buy hanfu for amusement or for travel, and the rest buy it for cultural events or portrait photos.