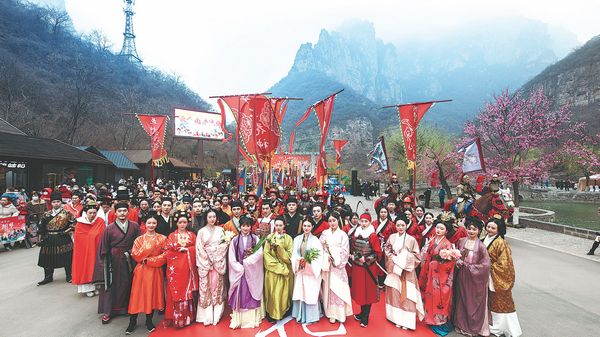 Hanfu parades and performances that were associated with the mountain's landscape scenery, history and legends were put in place at the March festival, and it attracted young travelers in droves.
Now visitors under the age of 30 or so account for 30 percent of visitors, Wu says.
The success of Yuntai Mountain has encouraged Xiuwu to step up its efforts in pursuing hanfu development.
Incentives such as ticket discounts have been offered to visitors dressed in hanfu, and hanfu producers are being encouraged to complement the industry chain.
Chen Hongli set up her hanfu making business in March in the industry zone of Xiuwu, about 10-minute drive from the Yuntai ancient town.
"I came here mainly because Xiuwu is very supportive of the hanfu industry and I do need to come,"Chen says.
"With the government endorsement we could get more resources from peers in the industry and communicate with them."
Chen built her own hanfu factory in a village in Pingdingshan city of Henan in 2017, and the value of sales totaled 7-8 million yuan ($1.1-1.2 million) the next year, she says. In both 2019 and last year the value of sales totaled 20 million yuan, she says.