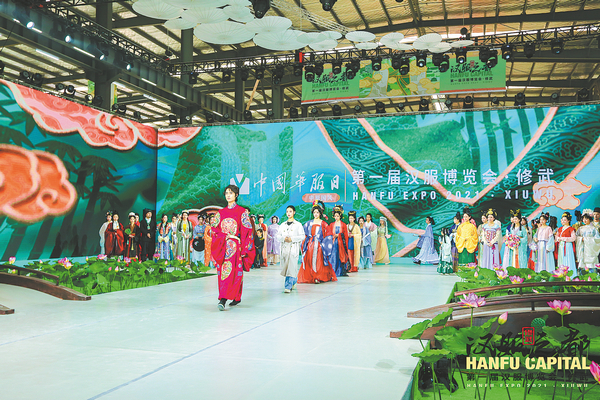 Popular television dramas and social media influencers have contributed to the hanfu craze.
Many scenic spots have caught up with the trend and offer related services to tourists, Xiuwu being one of them.
"Xiuwu is an underdeveloped county with a small population and relatively weak industry base, and the mountainous area takes up half of the place," says Guo Peng, the Party secretary of Xiuwu.
"So its biggest strength is its cultural and ecological resources."
Last year local authorities called for investment and recreated Yuntai as an ancient town, with the idea of promoting an "aesthetic economy".
It was then that the idea of using hanfu to promote the town was put forward.
The Hanfu Huazhao Festival staged in Yuntai Mountain, a drive of about 30 minutes from the new ancient town, has managed to draw visitors from around the country.
The scenic spot boasts splendid natural beauty, including rugged peaks, canyons and waterfalls. In spring it becomes an ocean of flowers, visitors being able to enjoy twittering birds and warm spring breezes from March.
"We tried small time to adjust our customer structure in March 2018," says Wu Peimeng, marketing director with the mountain getaway.
Young people accounted for less than 10 percent of all visitors before, but the festival managed to generate a buzz among them.
The scenic spot started to pour a big effort into looking at hanfu culture and scale up the festival by seeking the advice of professionals.