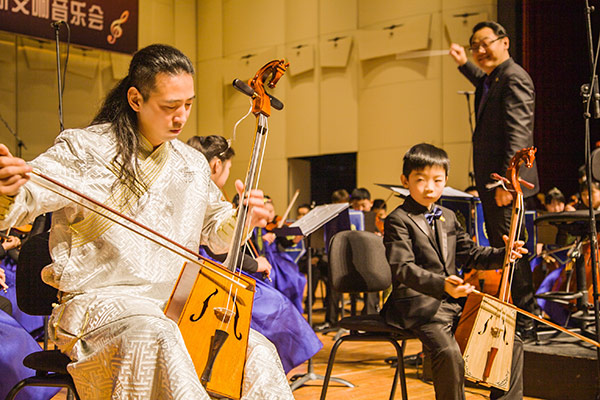 Music students attracted to the sounds of ancient China
On a cool summer evening in 1991, the sun had just set and a leisurely breeze blew across scenic grasslands.
Herdsmen completed their day's work and gathered round an outdoor stage in Arvingerel, located in the east of the Inner Mongolia autonomous region.
They were awaiting the arrival of the Ulan Muqir, or Red Bud Troupe, in this small town situated amid the rolling Horqin Grasslands in Jalaid Banner, Hinggan League.
Ulan Muqir means "red bud" in Mongolian, and the art troupe travels from site to site, performing for herdsmen who live in some of China's remotest areas.
Surleg first watched an Ulan Muqir performance when he was 8. Impressed by the act, which included singing and dancing, he was intrigued by the sound of the morin khuur, a horse-headed fiddle that is a traditional instrument of the ethnic Mongolian group.
"When a young man dressed in ethnic clothing sat and started to play the morin khuur, I was quickly captivated by the deep and rough sounds he produced. I can't remember the pieces he performed, but I decided to learn to play the instrument," Surleg said.
He fulfilled his dream of mastering the instrument while he was in middle school, and in 2014, he traveled to Beijing to continue his music studies for two years. He now teaches morin khuur in the Chinese capital.
With the summer vacation arriving, he has a hectic schedule giving lessons to young students and adults.
One Sunday afternoon, he began a class with Qiuqiu, a 7-year-old boy, who had been learning the morin khuur for a few weeks.
He told his young pupil: "It sounds squeaky now, but it's OK.For beginners, it's not easy to produce a good sound, but you will be able to play some beautiful music once you've reached a certain level of proficiency. You just need to practice and not give up."
As he was being instructed, the boy tried to keep his bow moving in a straight line and maintain even pressure on the strings.