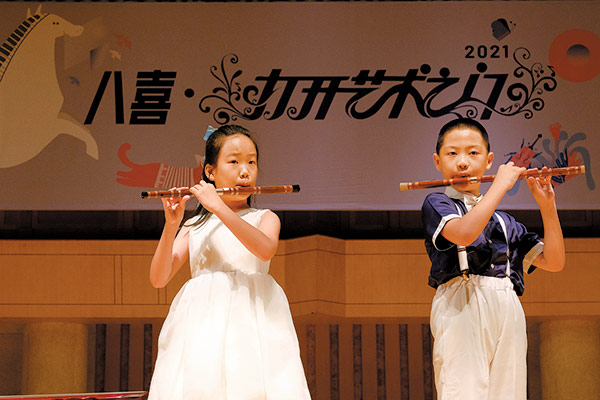 Gan Shafei, 14, one of the students attending this year's pipa camp, first took part in the summer activity when she was 8 and was drawn to the four-stringed instrument, which has a history of some 2,000 years.
Now a student at the middle school affiliated to the Central Conservatory of Music, Gan plans to become a professional pipa player.
"I love playing the pipa, as it's a versatile instrument through which I can express my feelings about everything," she said.
Tang Dynasty (618-907) poet Bai Juyi described the sound of the pipa as "pearls landing on a jade plate".
Gan added: "That's just one of the sounds the pipa can produce. I'd like to play pieces for the instrument as much as possible and also try to compose one day."
On the final day of the pipa summer camp, Zhang invited a special guest onto the stage-Chen Jiayi, one of her students. The Beijing native, who is in her early 20s, has aplastic anemia, a rare bone marrow disorder, and has had to suspend her schooling.
Zhang said: "Of all my students, she is very special. She has been struggling with her illness, but it has not stopped her playing the pipa. I am her teacher, and at the same time, she inspires me. Her passion for the instrument empowers me."
Chen was not keen on playing the pipa when her father first suggested she study the instrument. She was about 10 at the time and had spent two years learning to play piano. Although she never expected to enjoy the pipa, she joined a traditional Chinese folk music troupe at her primary school and became one its best performers, later continuing her musical studies at summer camp.
When she was 14, Chen saw Zhang Hongyan performing on television, and quickly became a fan. She wrote to Zhang, and they became friends.
Chen said: "Whether I am happy or sad, I love playing the pipa. Since I suspended my schooling, I have studied at home alone. I am now reading books about musicology, music therapy and psychology.
"I try my best to play the instrument and I am still hoping that one day I can study at the Central Conservatory of Music, where Zhang teaches."