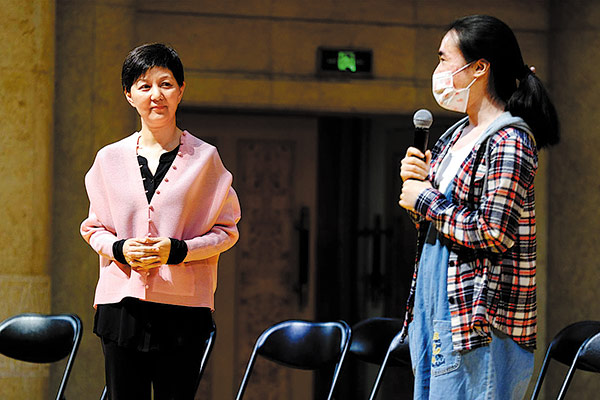 Vivid pictures
Qiuqiu's mother, who is from the ethnic Mongolian group, said: "The passionate sounds of the morin khuur evoke vivid images of life on the grasslands of Inner Mongolia. I want my son to learn the instrument, as it belongs to our ethnic group."
The two-stringed morin khuur features prominently in Mongolian nomadic culture. In 2003, it was recognized by the United Nations Educational, Scientific and Cultural Organization as an intangible cultural heritage. Six years later, morin khuur music was listed in the first group of national intangible heritage approved by the State Council, China's Cabinet.
Most of Surleg's students come from ethnic Mongolian families. There are also students, ranging from young adults to seniors, who have traveled to Inner Mongolia and been impressed by performances given by morin khuur instrumentalists.
"Although the instrument is learned by only a small number of people, I am happy to see that some schools in Beijing have included it as part of their art education," said Surleg, who teaches students at Yu Quan Primary School, which is affiliated to the Chinese Academy of Sciences. Since 2015, the school has offered morin khuur classes, and now more than 20 students, age 7 to 12, are being instructed by Surleg.
With music programs being offered at the vast majority of schools, students have access to a wide range of instruments.
Some of these, such as the morin khuur, are considered to appeal to minority tastes, but are attracting an increasing number of students to classes during the summer vacation.
On July 17, more than 60 people from across the country gathered at the Forbidden City Concert Hall in Beijing to attend two summer camps for instruction in the guqin (a seven-stringed zither), the xiao (a bamboo flute) and the xun (an egg-shaped wind instrument made from pottery clay).
As part of the ongoing annual Gateway to Arts 2021 Summer Festival, the two camps attracted students of all ages, with or without musical backgrounds.