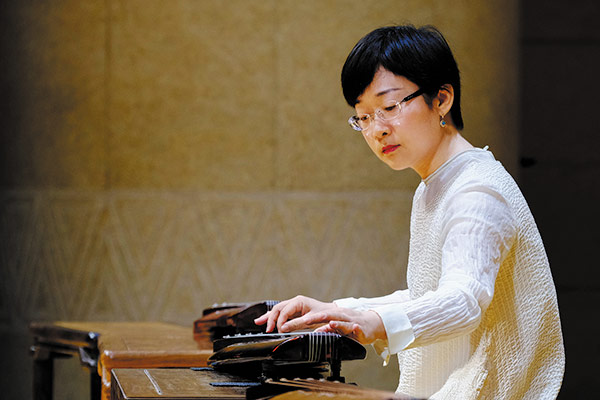 Young students
One of Beijing's biggest arts events for children during the summer vacation since 1995, the Gateway to Arts Summer Festival opened this year at the Forbidden City Concert Hall on July 4 and runs until Aug 31.
The event includes 10 mini summer camps teaching children Western classical music, traditional Chinese operas and long-established Chinese instruments, along with 69 live performances and 10 public lectures.
Xu Jian, general manager of the concert hall, said it is the first time the festival has included instruction in the guqin, xiao and xun.
"We were worried whether these traditional instruments would be sufficiently popular to attract people. However, when applications opened, we were quickly relieved, as within 10 minutes all these courses had been booked," Xu said.
"It proves that more and more people appreciate traditional Chinese music. They want to try something new-yet old-in such instrumental music."
Guqin player Li Fengyun, a professor at the Tianjin Conservatory of Music, and musicologist Wang Jianxin, who is also a professor at the conservatory, are two leading teachers at the summer camps giving instruction on wind instruments such as the flute and xiao.
Li said, "We started by playing most classical pieces with our instruments, showcasing their beauty. These instruments are very old and are usually associated with images of people from ancient China in long robes writing poetry or practicing traditional Chinese ink painting, but we want to show how these instruments work against the backdrop of the contemporary world."
For absolute beginners, Li first designed courses to acquaint them with the guqin, which dates back thousands of years. The students then listened to the instrument being used to play various tunes at different tempos, before Li let them pluck it.
"The guqin is a very quiet instrument. A player needs to be patient and concentrate while playing it," she said.
Li added that she joined the Gateway to Arts festival last year and launched an online course in guqin instruction, which received warm feedback from students.