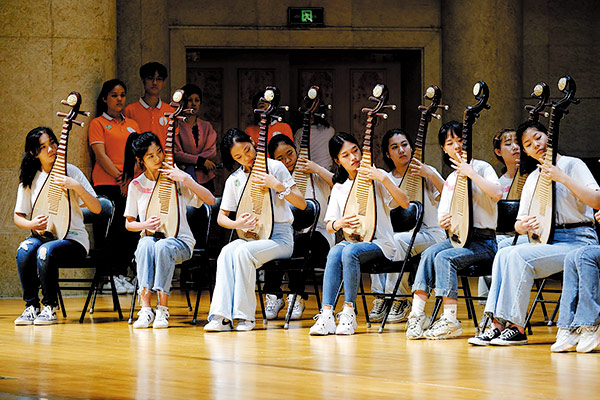 Gao Ge, a white-collar worker in Beijing, is one of the students taking Li's online classes. She started to learn the guqin five years ago, and after three days of instruction from Li, she made her stage debut at the Forbidden City Concert Hall.
"In my car, I listened to a CD that featured guqin pieces. I was instantly hooked by the sound, which I had never heard before. It made me feel calm and close to the music, although I didn't know the name of the piece," Gao said.
"After the guqin is mastered, it can help in many ways. I feel relaxed when I play it, and I am also reading Chinese poems and books about traditional Chinese culture."
Star performer
On July 16, renowned pipa recitalist Zhang Hongyan performed with her students at the Forbidden City Concert Hall, concluding the pipa summer camp led by Zhang.
A professor at the Central Conservatory of Music, Zhang played pieces adapted from popular Chinese songs, including Playing My Beloved Pipa, a popular number written by composer Lyu Qiming for the Chinese movie The Railway Guerrillas in 1956. Zhang also performed Guests From Afar Please Stay, a song written by Fan Yu and Mai Ding in 1953.
In 2011, Zhang launched a summer camp as part of the annual festival. Now in its tenth year, the camp attracts more than 120 students of all ages from around the country.
"I am very proud and happy to see that so many young Chinese love to play the pipa. I can see each one of them progressing," Zhang said.
She added that when the Forbidden City Concert Hall invited her to launch the pipa summer camp, it was the first such camp at the Gateway to Music festival dedicated to a traditional Chinese instrument. Before this, Western instruments, ballet and vocal training dominated the camp programs. In the first year, about 30 students joined the camp, with the number doubling the following year.
Zhang's students from the Central Conservatory of Music volunteer to join the camp to give instruction. This year, two classes were added for advanced pipa students.