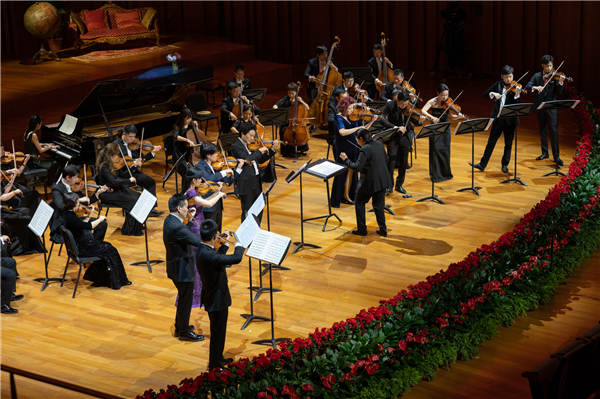 NCPA May Festival will bring together a unique ensemble with established reputations, Chen Nan reports.
When 12 Chinese violinists performed at the National Center for the Performing Arts in Beijing on May 8, their carefully balanced and nuanced sound kicked off the NCPA May Festival, an annual event to promote chamber music.
The programs included Bach's Double Violin Concerto in D minor BMV 1043 performed by violinists Lyu Siqing and Chen Xi, and Antonio Vivaldi's Concerto for 3 violins in F major, RV 551, featuring violinists Gao Can, Wang Xiaomao and Jiang Zhenyi. Ten violinists, including Lyu, Xu Weiling and Huang Bin, performed Chinese composer Du Mingxin's Song and Dance for Celebration from his violin concerto, Trip to Xinjiang, accompanied by the National Ballet of China's symphony orchestra under the baton of conductor Fan Ni.
According to Lyu, artistic director of the NCPA May Festival, who is also a renowned violinist, the lineups showcase a high level of Chinese violinists, who have achieved renown both at home and abroad.
"With different groups of these violinists performing repertories in a diversity of styles, audiences enjoyed the beauty of chamber music, which is totally different from music performed by soloists," says Lyu.
"I grew up listening to music performed by these established Chinese violinists and I am happy to perform with them onstage as a violinist myself," says 25-year-old violinist Dang Huali, who performed Vivaldi's Quadruple Concerto for Violin in B minor RV 580 from L'Estro Armonico Op 3, No 10, along with three other violinists-Lyu, Huang Bin and Huang Mengla-at the opening concert on May 8. The three are winners of the Paganini International Violin Competition in 1987,1994 and 2002 respectively.
Initiated by the NCPA in 2009, the festival was canceled in May last year due to the coronavirus pandemic. With the pandemic largely under control in the country, the NCPA is holding the latest edition of the NCPA May Festival from May 8-22.
"When we first presented the May Festival in 2009, chamber music was not part of mainstream culture among Chinese classical fans. With more and more people enjoying classical music, they are also open to chamber music, which provides an intimate atmosphere and experience," says Wang Luli, deputy director of the programming department of the NCPA.