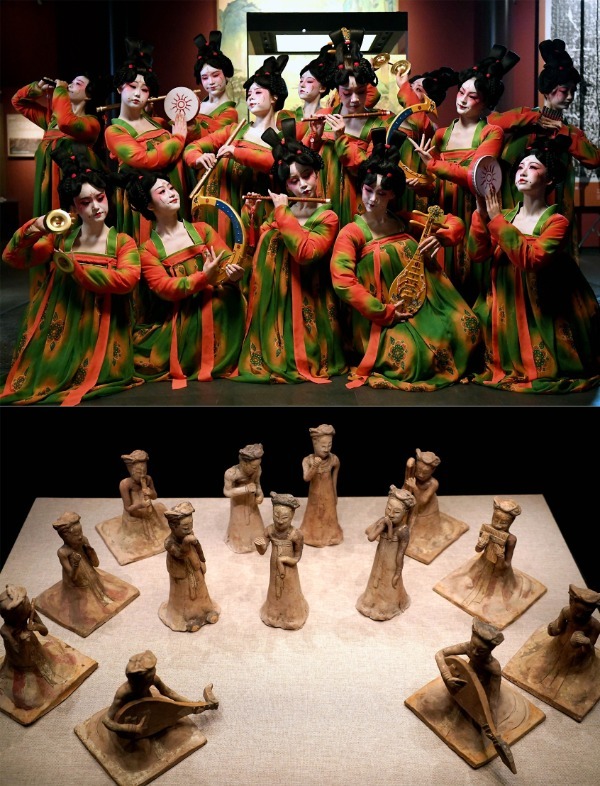 Chinese Foreign Ministry Spokesperson Hua Chunying tweeted on Monday that "beauty comes from creativity," commending a dance performance at the Henan Lantern Festival gala for bringing pottery figurines from the Tang Dynasty (618-907) back to life.
Blending augmented reality (AR) tech, the show on Henan TV for the Lantern Festival gala on Feb 26 offered the audience a visual tour of the Henan Museum, as the dancers represented female musicians depicted on Tang tri-colored pottery at a banquet during Tang Dynasty.
The show has gone viral online, stirring public enthusiasm for the cultural aesthetics and relics that appeared in the performance -- "The Night Banquet in Tang Dynasty Palace."
"Was that the makeup style during Tang Dynasty?" "What are the treasures displayed?" Curious to know the answers, many young people rushed to the museum in Zhengzhou, capital of Central China's Henan province, to explore.
Chen Lin, choreographer of the Zhengzhou Song and Dance Theater, was the chief creator of the dance performance. She said she got the inspiration for the dance from the pottery figurines of female musicians displayed at the museum.
The figurines freeze-frame the scenes of dancers from Tang Dynasty wearing long skirts and sleeves in different poses while playing musical instruments including stringed pipa, vertical harp, flute and cymbal.
Zhang Deshui, vice director of the museum, said the figurines were unearthed from a Tang Dynasty tomb in Anyang, Henan province, in 1959. They have become important evidence of the evolution of traditional Chinese musical instruments and playing techniques.
Zhang said Tang Dynasty became an epitome of music and dance art in Chinese history. The prosperity of the art benefitted from the blending and exchange of different cultures. When the figurines were unearthed, they showed the dancers dressed in green, brown, red and yellow, which looked extremely gorgeous.
In the performance, dancers revived the Tang Dynasty makeup, clothing and dancing style based on the relics.
Chen said that before each performance, actors had to prepare for nearly three hours. Fourteen dancers wore jumpsuits filled with sponge under their costumes, and stuffed cotton in their mouths in order to recreate the plump figures of Tang Dynasty females.
"It was like carrying a quilt on your body while dancing. The sponge-padded clothes were soaked in sweat after the performance," said Yi Xingyan, chief actor of the performance.
The show's AR scene presents treasures in the museum, including Fu Hao Xiao Zun (Bronze wine vessel in the shape of owl), Lian He Fang Hu (Rectangular wine vessel with lotus and crane) and the Jiahu Bone Flute.
Chen said the performance was just a beginning for the artists in the use of multiple artistic methods and techniques to present China's rich culture housed in museums.