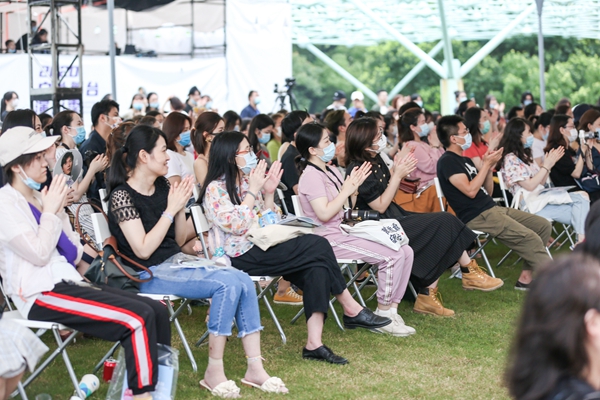 Audiences sit on the lawn to enjoy an outdoor performance.[Photo provided to China Daily]
"People used to hear Pingtan played on the radios at all street corners and neighborhoods. They used to wait in line overnight to buy tickets to a show by maestro artist Jiang Yuequan. I hope to bring some of that enthusiasm back with the outdoor performance."
During the launch, Xue Min, head of the Erduo Children's Theater, which will perform during the open air season, shared a story about how the company relied on digital media to weather the epidemic.
After the shows for its four productions were canceled because of the epidemic, the theater resorted to posting musical notes on the web and hosting online a cappella classes.
"These classes were meant for the whole family to take part in. They turned out to be very successful and our music coaches were kept very busy," says Xue, who admits that the theater was lucky compared to its peers.