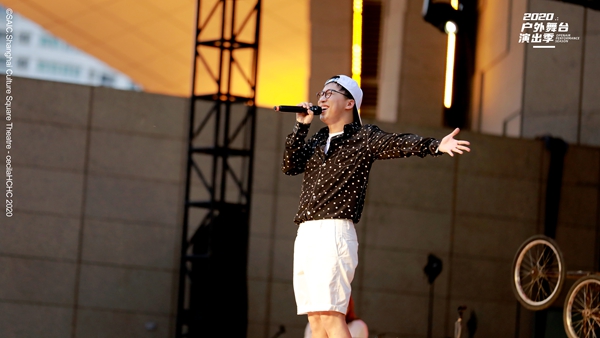 Shanghai Culture Square presents its first Open Air Season when 28 concerts, plays and other performances take place from July 11 to Aug 23.[Photo provided to China Daily]
The outdoor-theater space consists of two tents, one for the stage, the other large enough to accommodate more than 400 people. Twenty-eight concerts, plays and other performances will take place here between July 11 and Aug 23.
Shanghai Culture Square took seven days to set up the tents and install high-tech audio systems to ensure the sound is contained to only the performance area and won't affect neighborhoods in the vicinity.
Contingency plans have also been made for inclement weather. According to Fei, audiences will have their tickets refunded if shows are canceled due to bad weather conditions.
Fei says the move to hold outdoor performances is more about restoring the theater's connection with audiences than driving business back to normal levels. He believes the open air performances can also help to ignite more public interest in musicals and theater art.
The price of tickets for regular indoor performances usually starts from 180 yuan ($26) and can go up to thousands, depending on the popularity of the show. For this outdoor season, all tickets are priced at 180 yuan.
"We don't expect to profit from this. We just hope to keep the musical-theater scene in Shanghai alive," Fei says.
"We hope the shows will make some impact among the public and are glad to see that the tickets sold out immediately after the box office opened."