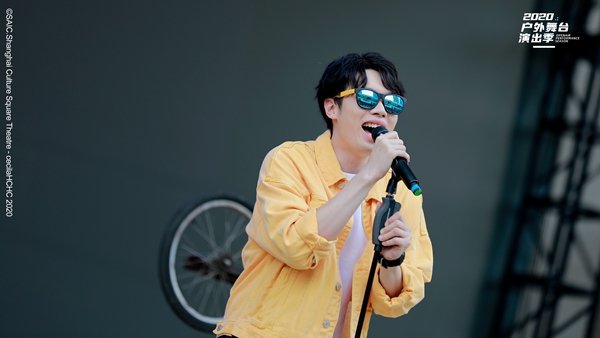 Shanghai Culture Square presents its first Open Air Season when 28 concerts, plays and other performances take place from July 11 to Aug 23.[Photo provided to China Daily]
Besides performances, the outdoor theater will also feature a bazaar selling souvenirs, beverages and ice cream. Street art, public theater and flash-mob performances have also been scheduled.
"Compared to a regular theater production, it is a more relaxing experience to attend the outdoor shows," Fei says. "We wish people will have fun and enjoy a leisurely time while surrounded by art."
All international productions have been canceled or postponed due to the virus outbreak. The new season will be backed by a slew of domestic artists and production companies, many of which are from Shanghai and Beijing.
Among them is Liu Yang, a Chinese musical actor who was one of the first performers of the open air season. Liu presented a recital alongside another musical actor, Ding Zhenying, on July 11.
Liu says he has missed live performances the most during the epidemic. While he has received requests to hold online concerts, he lamented how difficult it is to ensure quality during livestreamed performances.
One of the highlights of the outdoor season will be performances by the Shanghai Pingtan Troupe, which will take the stage in August.
Gao Bowen, head of the troupe, will perform Blossoms, adapted from Fan Hua, a novel by Shanghai-based author Jin Yucheng. In this performance, Gao plays the traditional Chinese sanxian (a three-stringed plucked instrument) and sings in the Suzhou dialect.
"We will present the show with more colorful stage designs. I'll take this as a great opportunity to showcase the local culture and traditions of Shanghai and the Yangtze River Delta region," says Gao.