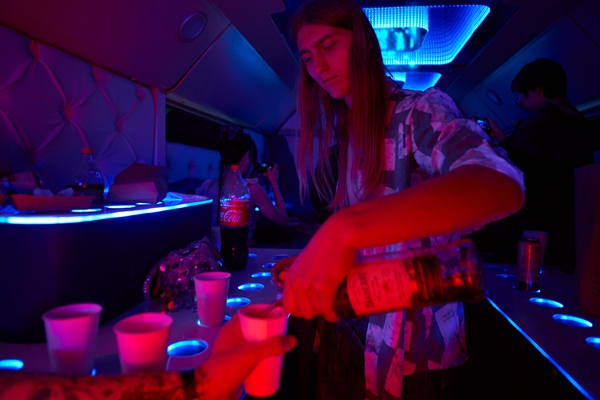 A scene from the episode that highlights young people's party culture.[Photo provided to China Daily]
Many iconic places in the city are featured in the show, such as Fairfax Avenue, known for trendy streetwear stores, and the Santa Monica Courthouse, an iconic skateboarding location.
Sun Yu, director of the first two episodes on street culture, says: "You can see lots of young people lean against the walls and snap photos of their outfits to post on Instagram while waiting for hours outside the shops to buy clothes and shoes. It's a scene which you could also see in Beijing. "The same pair of shoes could be popular both in Los Angeles and in Beijing. It's an inevitable evolution of the world, having a new generation of young people declaring their identity and living a lifestyle through street culture."
Born and raised in Beijing, Sun, 32, grew up listening to hip-hop music and is a big fan of H.O.T., a South Korean boy band.
He wears loose pants, sneakers and hoodies like any other trendy young person walking the streets of the capital.
It is not the first time that Sun has turned his camera on street culture. Last year, he directed a 13-episode documentary, Only Street Dance, covering the art form in Guangzhou, Guangdong province; Chengdu, Sichuan province; Shanghai and Beijing.