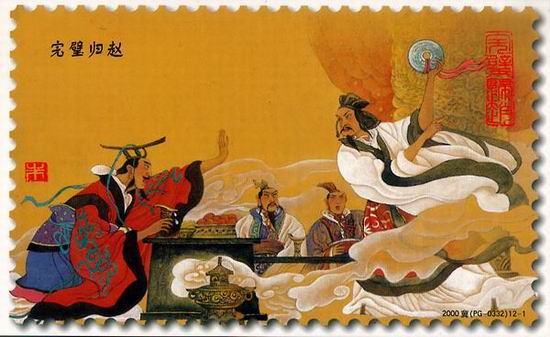 Illustration of the story Return the Jade Intact to the State of Zhao. [Photo/sina.com.cn]
Wan Bi Gui Zhao/Return the Jade Intact to the State of Zhao
Derived from Biographies of Lian Po and Lin Xiangru in Historical Records, this phrase means to return something intact to its owner.
During the late warring states period, He Shi Bi was given to the state of Zhao as a betrothal present by the state of Chu, while the king of the Qin State was longing for this priceless treasure and offered 15 fortresses in exchange. For fear of Qin's military power, the king of Zhao assigned Lin Xiangru, a bright minister, to negotiate with Qin over He Shi Bi. He soon found that the king of the Qin State wanted to intentionally swindle the jade rather than give a fortress in exchange. Lin Xiangru, relying on great wisdom and courage, managed to leave Qin and return the precious jade intact to Zhao.
It is said that after Qin conquered all the other warring states and united China in 221 BC, He Shi Bi was made into the Imperial Seal of China by Qin Shi Huang and became an emblem of the emperor's supreme power.