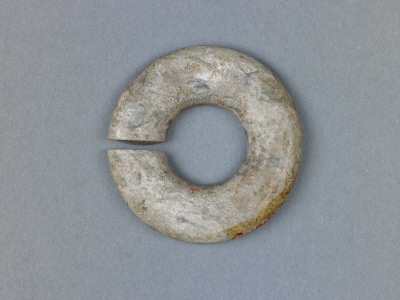 A jade jue from the Neolithic Age, housed in the Palace Museum. [Photo/dpm.org.cn]
Xi Wangmu presents jade to the Emperors Yao and Shun
In Chinese folklore, Xi Wangmu, literally meaning Queen Mother of the West, is a goddess known from ancient times, who resided in her palace on the mythological Mount Kunlun in the Himalayas where ancient human ancestors originated. It is believed that Xi Wangmu could bring the dead back to life with elixir and the orchard in her garden grew peaches which ripened once every thousand years giving longevity to a person who ate them.
In literature or Chinese Opera, Xi Wangmu is depicted as a serious and august goddess who took charge of heaven and all the deities. The most well-known story of Xi Wangmu is from Journey to the West, a novel by Wu Cheng'en during the Ming Dynasty, telling about the Monkey King who stole her magical peaches which were to be feasted on at a banquet.
The earliest official narrative of Xi Wangmu can be found in Shangshu, a classic record of China's ancient history, in which she met with legendary rulers of ancient China including the Yellow Emperor, Emperors Yao and Shun and the King of the Zhou Dynasty and presented them with maps and delicately carved jade. In today's research, historians tend to regard Xi Wangmu as a title of the ruler of clan tribes in the western part of China.
In historical records, the jade Xi Wangmu presented to Emperor Yao was a kind of ritual jade named jue, which is a pendant in the shape of a slit ring with a hole in the center.