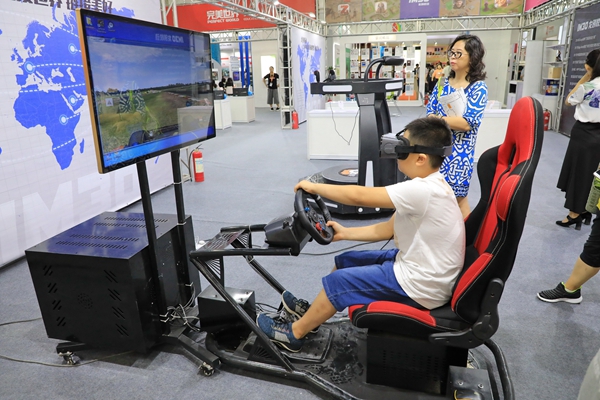 A boy experiences VR technology at last year's book fair. This year's main theme is 5G.[Photo/Xinhua]
"After 13 years of the Chinese publishing industry's push to 'go global', we are making good progress. Our international partners are now actively seeking more stories about China," Zhao says.
One example of this is a range of China-themed academic books published by German publisher Springer, where one of the books has been downloaded more than 10,000 times.
Also, Oxford University Press plans to add its first textbooks to a language-learning series aimed at young English speakers looking to learn Chinese.
Narrating China's Governance: Stories in Xi Jinping's Speeches, a 2017 title published jointly by the People's Publishing House and the People's Daily, which chronicles 109 stories told by President Xi that offer a better understanding of his thoughts and insights on a range of subjects, will be presented in more than five languages at the fair by Springer Nature and Uzbekistan's Akademnashr NMM press.
Last year, 5,678 copyright agreements were inked at the fair, and the ratio of import deals to exports was 1 to 1.74.