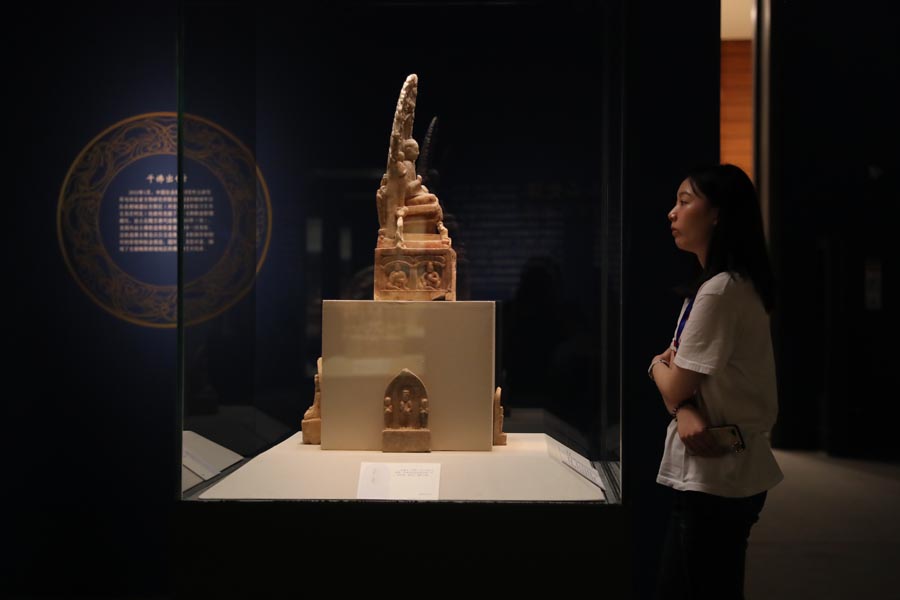 A visitor at the ongoing show, Peaceful Coexistence, at the National Museum of China in Beijing. It displays more than 120 Buddhist statues excavated from Yecheng, an imperial city of the Northern Qi Dynasty (550-577). [Photo by Jiang Dong/China Daily]
An exhibition of Yecheng relics recounts the development and decline of the former center of Buddhism in northern China, Lin Qi reports.
Its glorious past less well-known today, the city of Yecheng in present-day Linzhang county in North China's Hebei province, was a sacred land for Buddhists in the sixth century.
Hundreds of temples scattered in and around the planned city, once played host to a great number of eminent monks from India and across China, as well as other sutra translators and ordinary practitioners of Buddhism. On the mountains that surrounded Yecheng there were more temples and caves with Buddhist statues.
The booming landscape raised the profile of Yecheng, an imperial city of the Northern Qi Dynasty (550-577), as a Buddhist center in northern China. But all of a sudden, its glory waned. The Northern Qi rulers were defeated by the rival Northern Zhou Dynasty (557-581), both from the Northern Dynasty (386-581) period.
Yecheng became part of Northern Zhou territory, with Chang'an (now Xi'an in Northwest China's Shaanxi province) as the capital, and the old city then saw persecution of Buddhists. Temples were demolished so that the land could be used for other purposes, monks were asked to leave, and Buddhist statues were smashed into pieces and buried underground.
Buddhism saw a revival in the Sui (581-618) and Tang (618-907) dynasties.