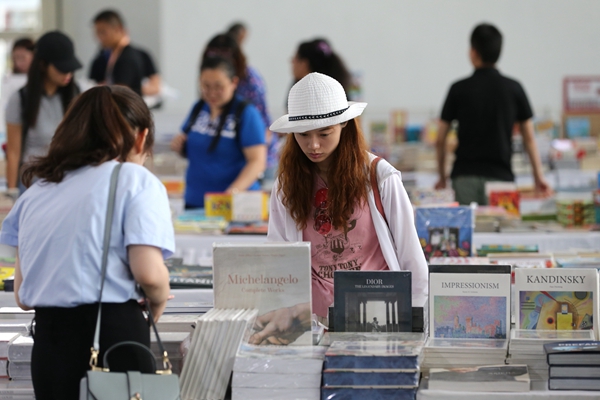 Visitors choose books at last year's Beijing International Book Fair. This year's event will be the largest in the fair's history.[Photo by Wang Zhuangfei/China Daily]
With high-speed connectivity and negligible time delays, Lin says 5G will be able to offer holographic images of people or content from the books right in front of the readers' eyes.
"In the future, fans will be able to get a sense of how their writers look and talk with the help of 5G no matter where they are," Lin says. "It will change the book launch scene forever, and, in a way, transcend space and time."
This will be the first year that the 17th Beijing International Book Festival and the 9th China Digital Publishing Exposition have been held together with the 26th BIBF as a single entity under the same roof.
Held at the China International Exhibition Center and covering a space of 106,800 square meters, the largest-ever Beijing book fair is extending to eight exhibition halls, and will attract 2,600 exhibitors from 95 countries and regions. Over 1,000 book and publishing-related events will also be hosted, presenting 300,000 titles for visitors to feast on.
As well as building on the theme of technology and its convergence with the publishing industry, this year's fair will also celebrate the 70th anniversary of the founding of the People's Republic of China. Chinese culture and tradition will be highlighted, as will international exchanges between publishers, writers and readers from China and the rest of the world.